'Dalai Lama Breaks The Ice With Broken English, Spreads Laughter'
by Express News Service
(Indian Express. March 13, 2000)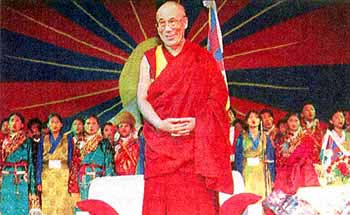 Five-day Tibetan festival in the city begins with the Lama's freewheeling talk on the need for compassion in a world torn by strife
Barely five minutes after he strode on stage, Tenzin Gyatso, the XIV Dalai Lama, cut through the pomp and ceremony, finding his wavelength with the eager audience. The spiritual and political leader of the movement for a free Tibet was in Mumbai to throw open the Festival of Tibet at the Birla Matushri Sabhaghar. After an introduction by Sanjana Kapoor and a superlative-studded speech by Mukesh Ambani, the Dalai Lama ambled forward to light the traditional lamp, fumbling to hold a lit candle to the fame. 'Not easy, eh,' he joked, and the audience was awash with smiles.
The five-day long festival will showcase Tibetan culture and raise awareness on issues facing the Chinese-occuped territory. Films, photographs, food, dance and music are among the events on offer. The Dalai Lama also released a book on Tibet on the occassion.
As he sat cross-legged on the seat on stage, he peered beyond the flash-bulbs. 'The hall's quite dark, I can't even see you,' he laughed.
Jokes apart, the 65-year old leader was to speak on 'Ethics For The New Millennium', but his freewheeling talk, partly in his native tongue and partly in English, hit several notes, mainly centering around the need for compassion in a world torn by strife.
'I started learning English as early as 48 years of age. Broken English helps me communicate better and creates laughter when I make mistakes,' he said disarmingly.
'I am nobody special, just another Buddhist bhikshu. So it's important to realise that we all have the same potential of good and bad. Therefore, it's important to use the good potential to be a happier human being. If you have negative potential, you should be clear of consequences of your actions,' said the Nobel Peace Prize winner.
The Dalai Lama also warned that things were not hunky-dory by any measure in Tibet. 'We Tibetans have been refugees here for about 41 years (the Dalai Lama crossed over with his followers to India in 1959) not because we did something mischievous. Now, events over the last one year show that a cultural genocide is taking place in Tibet by the Chinese government,' he said.
Indo-Tibetan ties received special and repeated mention: 'Buddhism originated in India and we are the chelas of Indians,' he said.
The Indians had supported the Tibetans through many difficult years, and it is because of their help that the Tibetans had managed to preserve and protect their culture,' he pointed out.
Tibet, the roof of the world, looked around and adopted Chinese food, Indian philosophy and the Mongolian way of dressing, he pointed out.
The Dalai Lama also emphasised on the common message of discrete philosophies: peace, love, compassion. Compassion even comes to those who don't have any sense of religion, he said, defining compassion as a 'genuine, and unbiased sense of love and concern for others.'
Later, responding to questions posed by members of the audience, the leader also hoped that Tibet would be soon free of Chinese rule. 'If you look at Tibet from the inside, it looks hopeless. But Tibet is also a part of the world. The Tibetan spirit is very strong, specially among the younger generation. Compared to the major illnesses in the world, my headache is much better'