'Call To Preserve Tibetan Culture'
by Kalpana Sharma
(The Hindu. March 13, 2000)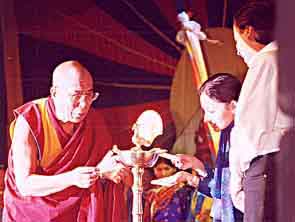 Mumbai: A packed house of Mumbai's citizens listened in rapt attention to the Tibetan leader, the Dalai Lama, as he opened a week-long Festival of Tibet here on Sunday.
Organised by the Tibetan Youth Congress and Friends of Tibet, India, the festival would showcase the art, dance, crafts and religion of Tibet.
Speaking with characteristic simplicity, the Dalai Lama talked about the relevance of preserving the ancient but endangered Tibetan culture. 'In the last one year, the situation in my own country is very serious, very sad,' he said. 'Whether intentionally, or unintentionally, some kind of cultural genocide is taking place. Therefore, we, the refugee community, have to preserve this rich and ancient culture.' He said he appreciated the support to Tibetans from Indian people in this endeavour.
Tibetan culture had synthesised many different cultures, he said and described the choices Tibetans faced as they stood on 'the roof of the world'.
Tibetan medicine, too, synthesised many different systems including Ayurveda, Chinese traditional medicine and Unani medicine.
The Dalai Lama dwelt at length on the issue of compassion. 'I believe that Tibetan spirituality, its unique cultural heritage, is very much based on compassion. We can describe Tibetan culture as the culture of peace.'
Drawing a distinction between culture and religion, he said the former related to society while religion related to the individual. As an example he spoke of Tibetan Muslims, who spoke the Tibetan language and followed its cultural practices.