'Five-Day Festival Of Tibet Unfolds'
by Express News Service
(Indian Express. March 12, 2000)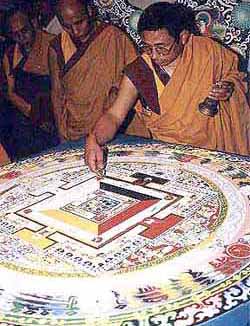 Mumbai: Apart from the young Karmapa Orygen Trinley Dorje, it seems everybody who has something to do with the Tibetan cause is in Mumbai for the Festival of Tibet. A five-day spread of Tibetan music, dance, films, photography and the cause will unfold in Mumbai on Sunday. The festival will be inaugurated by the Dalai Lama himself at the Birla Matushri Sabhagar at 4 pm, where he will speak on 'Ethics for the New Millennium'.
The slew of events include a day-long festival of films on March 13 at the YB Chavan Centre, where films like Martin Scorsese's Kundun, Nick Grey's Escape from Tibet, The Shadow Circus: The CIA in Tibet, Herge's Tintin in Tibet and The Cup, the Oscar-nominated film which depicts a monastery struck by World Cup fever, will be screened. Five Candles posts the works of five photographers — Suresh Natrajan, Diane Barker, Jacqueline Meier, Lobsang Wangyal and Vijay Kranti — at the Prince of Wales Museum. Lectures on Buddhist teachings and meditation will also be held at the Y B Chavan Centre. Around 150 invitees are camping in Mumbai, including monks, scholars, political leaders, photographers and film-makers. There's also a special guest, the 'hero' of Martin Scorsese's Kundun, 14-year-old Tulku Kunga Tenzin, said to be a reincarnation of the Dalai Lama's spiritual teacher.
A day before the event, all roads lead to Regency Inn at Regal, where organisers and invitees are ensconced in 20 rooms. 'Bombay has been deprived of the Tibetan presence, culture, religion, their cause. In Delhi, for instance, there is Tibetan settlements, but here, other than a handful of sweater sellers in winter, there's very little,' says Prashant Verma, organising secretary of Friends of Tibet (INDIA). Apart from a post-box, an e-mail connection and a website, the organisation doesn't have a real office to meet at, and organisers hope that the festival will help them strike roots in a city where Tibetans have a marginal presence.
Invitees also hope the festival will get people talking about Tibet. Religious scholar Geshe Damdul Namgyal of the Drepung Loseling Monastry says, 'The festival will provide the public an opportunity to know the Tibetan situation closely.' The political situation is passing a critical phase, he feels, and the flight of the Karmapa proves yet again that all's not well.
For photographer Diane Barker, it's her second visit — she was in Mumbai last year to exhibit her work on Tibetan monks. 'They are very beautiful people, and it's very hard not to get involved with them,' says Barker. Such festivals, she feels, reaches out to those who want to do something in their own way. 'Even if you can educate just one person, it's enough. Hopefully, this festival will touch several hearts.'
President of the Gu-Chu-sum Movement representing ex-political prisoners, Yeshe Togden, who fled Tibet in July 1990, adds, 'When I first came to India, I realised that I was free to do everything I wanted to here. In Tibet, I always had to look over my shoulder to see if police were following me. I want be as free in Tibet as I am here.'
For the 300-odd Tibetans in Mumbai, the festival is catching-up time. Dolkar Lhamo, a homeopathy doctor and volunteer, was born here, but she still has relatives back in Tibet. 'We may be living here, but my mother never let me forget where we were from. Every year, we pay visits to Tibetan settlements.'
Dolkar says, 'People still ask me where Tibet is. Is it in India or China?' Just the perception the festival hopes to change.