'From The Roof Of The World'
by Jasmine Shah Varma
(Mid-Day. March 10, 2000)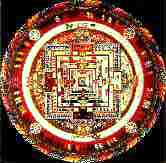 'Dancing monks, delicious momos, butter sculpture and films mark the five-day festival of Tibet starting today'
Tibet, lovingly called the roof of the world beacuse of its location high up in the snow mountains is not only a beautiful country in terms of its flora and fauna, but also becaise of its thosand-year-old culture and tradition. But there's more to Tibet than the Dalai Lama, monks in maroon robes, Buddhism and visits by Hollywood celebrities.
Bringing the culture, tradition and issues of this land is the 'Festival of Tibet', organised by two organisations, namely Friends of Tibet (INDIA) and the Tibetan Youth Congress. From March 12 to 17, Mumbai will have the opportunity to witness Tibetan cuisine.
The YB Chavan Centre will be the hub of all the activity. Martin Scorsese's Kundun, Herge's Tintin in Tibet, and many short films too, will be screened over the five-day festival, followed by discussions. Jetsun Pema, sister of the Dalai Lama will present Kundun.
An exhibition of photographs called 'Five Candles' will be held on at the Coomaraswamy Hall, Prince of Wales Museum. Photographers like Diane Barker, Jacqueline Meier, Suresh Natarajan, Vijay Kranti and Lobsang Wangyal will exhibit their work on Tibet and its people. Meier from Switzerland who has been involved with the Tibetan issue for a while now, says, 'I have taken pictures of Lhasa. In slide show and lecture, I will show the changes that the city has gone through between '95 and '98. Today, the city look more Chinese than Tibetan.'
The traditional mask dance by Tibetan monks called 'Cham' will be performed for the first time in Mumbai. Monk dance to the trumpet and recitation of tantras. This dance is taught to the monks of the Zonga Choedhe monastery in order to ward off evil forces.
A package of 21 traditional songs and dances by 30 students of the Tibetan Children's Village, Bylakuppe, Karnataka is an added attraction. This presentation showcases the different dances of Tibet.
To get a taste of Tibetan cuisine, there will be stalls at the YB Chavan Centre that will serve momos and shabakleb among other delecacies. There will be a hadicraft exhibition in which thangka paintings and woodcarvings will be exhibited and monks will perform for the Mumbai audience on March 16.
An added attraction is Dr Kangyur, the Dalai Lama's personal physician's visit. He will give a peek into the traditional Tibetan medicine.
The biggest attraction however is the 'butter sculpture' which is four hundred year old tradition. The huge butter sculpture made meticulously by several monks over days of Lord Buddha over si x non-Buddhist teachers who challenged him in performing miracles.
The festival has been brought to Mumbaiwallahs with the purpose of spreading awareness about the Tibetan issue. Tibetans in exile and many voluntary supporters are seeking help of the people of India and the government to support human rights issues and the cause of freeing Tibet from Chinese rule.
Says Choekyong Wangchuk, general secretary of the Tibetan Youth Congress, 'the objective is to protect and promote Tibetan culture, traditon and identity through this festival and strive for the independence of Tibet.'