'A Tryst With Tibet'
by Tharakan Joseph
(Times of India. August 18, 1999)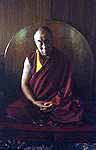 British photographer Diane Barker's exhibition opens at NCPA on August 18. Tharakan Joseph reports:
Tibetans lead an overtly life. The heavy looking men with their rugged faces and shambling gait, clad in fur caps and sheep-skins, who drive their sheep and yaks across the hills and plains, are probably the purest specimens of their race, as rightly described by British author Charles Bell. Decades down the line, they have now been reduced to a banished community, long years of oppression under the Chinese rule maiming thier expressions. Tibetan images of pain and suffering, images of pain and suffering, as vividly picturised by Bell, were given an eloquent expression by the famous British photographer Diane Barker, which will be on show at NCPA's Piramal Gallery starting from August 18.
Entitled 'Free Spirits: Tibet In Exile,' her exhibition will provide more than a glimpse of the community in exile. Her frames have captured the resilience, humour and the faith that the community has gathered around the godly figure of the Dalai Lama.
Having developed an uncommon but a strong relationship with the refugees in Nepal and India, Barker has her passion flowing for them. 'I feel compelled by the Tibetans and love them,' she says. She has been to India every year since 1992, and stayed here for five to six months each time.
Barker is remotely connected to India, but admits that she is drawn to India for unknown reasons. Her grandma was a nurse on the P&O liner 'Viceroy of India' and her mother had an interest in the country.
Born in 1952, this British artist-cum-photographer has held may solo exhibitions in the US, and the NCPA show is going to be her debut exhibition in India. Barker who has travelled extensively in India, Pakistan, Nepal, Australia and America currently lives and works in Worcestershire.
In Tibet, where Chinese immigrants outnumber the natives today, more than 6000 ancient monasteries and temples have been reduced to rubble. The mediveal and mysterious Tibet of myth and legend is on the verge of dying. And that is when Barker's images turn priceless.
Barker is extremely vocal when she talks about the Dalai Lama, the spiritual leader of Tibetans and a dethroned king who has taken political asylum in India. 'He is terribly powerful and he always renders to me completely speechless, I get so nervous,' she once told the media.
The photo exhibition at NCPA forms part of the run-up to the Tibetan festival, proposed to be held in Mumbai in the third week of January 2000. 'Starting from August 18, NCPA will also screen some of the masterpiece films on Tibet such as 'Kundun', 'Tibet In India', 'Knowledge of Healing' and 'Seven years In Tibet,' says Sethu Das, president of the Mumbai-based e-mail club, Friends of Tibet (INDIA), which is working for the Tibetan cause in the country.