'Soaring Spirits In Exile'
by Satish Nandgaonkar
(Bombay Times. August 17, 1999)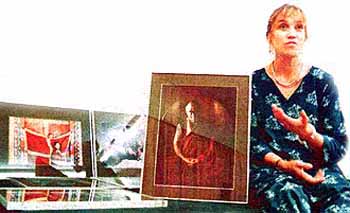 'I hope I don't sound too much like a propagandist,' chuckled British photographer Diane Barker as she displayed each of the 42 photo-frames that went up on the walls NCPA's piramal Gallery as part of Free Spirits: Tibet In Exile exhibition.
The exhibition, organised by NCPA and Friends of Tibet (INDIA), is part of the small Tibet festival being held in the city and includes the screening of four video films. Barker's images capture the life at Tibetan community centres in Dharamsala, Ladakh and Kathmandu, and narrate the painful story of a people whose intense spiritualism helps them to hold on to peace and dignity as China ravages this ancient this ancient seat of Buddhist learning. But 47-year old Barker's images do not make an overt political statement, but show the resilience and hope of the Tibetan people and their spiritual leader Dalai Lama. 'It is, I guess, soft politics. My pictures sort of tell the people 'look at this incredible people' and make them think about it,' says Barker, who was a professional watercolour painter before she took to photography. 'Painting is very introverted. I led a lively inner life while I did painting for about 13-14 years. I was feeling incredibly lonely. Initially, I was incredibly shy putting camera in front of people's faces,' she adds in her very British accent. Barker's images exude a beatiful sense of composition and a beautiful and an innate feeling for colour and light. Notable among the images is a portrait of the Dalai Lama, a candid photograph of two young nuns drying up their maroon cloths, the Tibetan ritual of Kalachakra Mandala...
Grown up on Kipling's Jungle Book, Barker's fascination for India grew through pictures on a postcard album of her grandmother, who visited India in 1930s. 'It was like finding a part of myself, a soulmate,' she says. In '92, she returned to India with her boyfriend who was teaching English to the Tibetan community. 'That was when Tibet happened to me. I spent about five months there. The boyfriend fell by the wayside, but Tibet and its people remained with me. I just could not get them out of my mind,' she adds.
Free Spirits: Tibet In Exile has travelled to six cities in England, but is being exhibited in India for the first time. Concludes Baker, 'Their life of boddhisatva is very inspiring, and their ideals are completely selfless.'
Free Spirits: Tibet In Exile is open at the Piramal Gallery, till August 28.