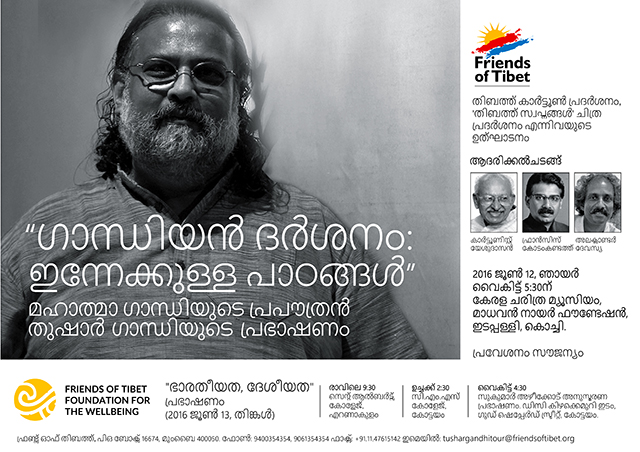 Tibet supporters in Kerala experienced an evening which would stay in their memories for a long time — they had the opportunity to listen to Tushar Gandhi, great grandson of Mahatma Gandhi talk on the subject "Gandhian Strategy: Lessons for Our Times", organised by Friends of Tibet Foundation for the Wellbeing.
Kochi, Kerala: Tushar Gandhi inaugurated a unique display of three exhibitions on Tibet — 'Tibet Dreams', 'Indian Cartoonists on Tibet' and 'A Long Look Homeward' on June 12, 2016 at the History of Kerala Museum, Edappally, Kochi, Kerala. Tushar Gandhi also felicitated Cartoonist Yesudasan, Artist Francis Kodenkandath and Artist Alexander Devasia for their selfless service to the Tibet cause in the field of creative art forms.
Ravi Palathinkal, a staunch Gandhian who is associated with Gandhi Smaraka Grama Seva Kendram, Alappuzha and also promotes organic farming communities in Alappuzha presented Tushar Gandhi a Momento on behalf of Friends of Tibet.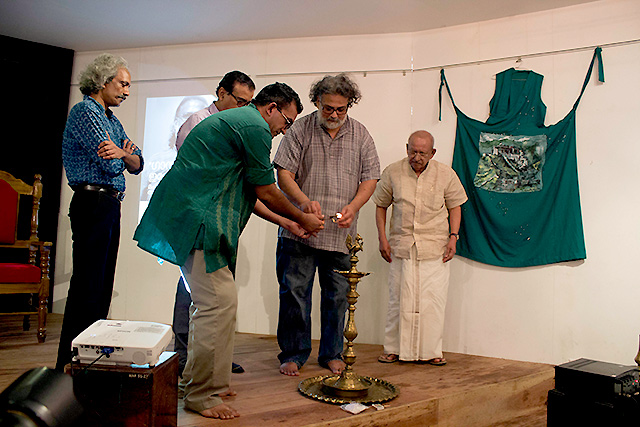 (Above) Tushar Gandhi, great-grandson of Mahatma Gandhi will inaugurate two travelling exhibitions from Friends of Tibet at the Museum of Kerala History, Madhavan Nayar Foundation, Kochi on June 12, 2016.
(Below) Celebrated Malayalam poet, Sankaranarayanan PI recites the Malayalam translation of Mahatma Gandhi's favorite hymn "Vaishnav Jan To" penned and recited by him. (Photos: Prince Prabhakaran)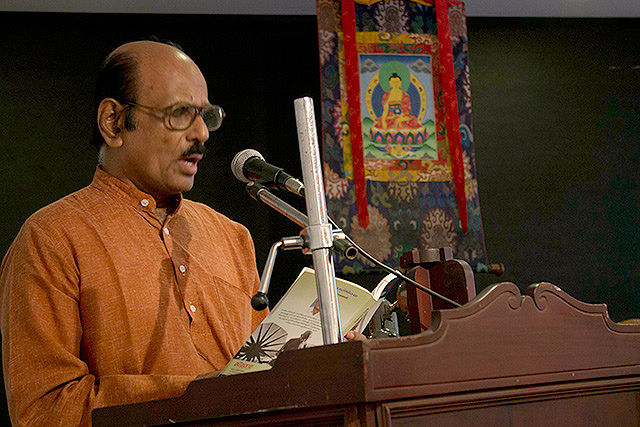 The evening started with a soulful rendering of the Malayalam translation of "Vaishnav Jan To" penned and recited by celebrated by poet, Sankaranarayanan PI, who has written several books on Mahatma Gandhi and Gandhian ways of living.
Founder of Paper Trail, a non-profit organisation aiming for the empowerment of women in Kerala, and an associate of Friends of Tibet, Diwia welcomed the audience and introduced the Chief Guest to the gathering. Its noteworthy that it was her great grandfather, KB Jacob, who was the first Indian Municipal Chairman of Fort Cochin had invited Gandhiji to Cochin to motivate and strengthen the freedom movement. Diwia's grand mother — Annie Burleigh was instrumental in forming the Mahila Samajam in Cochin with her friends picketing the toddy shops during Gandhi's call for total prohibition which eventually saw success.
While delivering lecture on "Gandhian Strategies: Lessons for Our Times", Tushar Gandhi highlighted the growing disparity gnawing our nation which is the outcome of the way we have shaped our democracy. He asked the audience to introspect and ask where we have gone wrong as a nation. To illustrate, he shared his experiences and anecdotes from Mahatma Gandhi's life.
He began the lecture by sharing that he was a mere mortal who happened to be a descendent of a great man and in midst of people who have achieved in life because of their personal abilities and expertise. He informed the audience that he was not a scholar and he spoke from his heart. He felt that it's interesting that Bapu remains important to the present generation while the nation has abandoned him from the time it became independent. He felt that it was part of a political strategy to keep Mahatma Gandhi's face in currency, so that it remains close to us; because we have not reached a stage where we would not want to possess any money.
Tushar Gandhi opined that if Bapu was to come back today, he would require an orientation class to realise that it's the same India for which he had lost his life. The dream that India saw as a nation was not the same that the Father of the Nation saw for India.
During the formation of the Interim Government, which was responsible to lead India to Independence, the ministers before assuming office, went to Bapu for a message that would guide them. The message Bapu gave them is what is now famously known as 'Gandhi's Talisman'. Gandhiji felt that unless a person finds a honest answer to the questions posed, one would be just doing it for one's satisfaction and it would not make any difference to the people involved. Fortunately for the politicians, unfortunately for India, the message did not remain in the memories of the politicians beyond the gate of Bapu's Ashram.
If at all we need to take anything from Bapu's life, it's the Principles of Truth, Simplicity and Transparency. 70 years is a significant age for a nation, and as a nation we still aspire to the three principles and have not achieved it, which just points out that something is wrong. And it is something that we, citizens of the nation, should be worried about. Instead of pondering what Bapu would have done if he was here today, we need to ask ourselves what we should do. Ours is a Democracy. Though our democracy is corrupt to suit the interests of few people, still we remain a democracy. Though the democracy empowers us with the most important component of democracy, we still have allowed ourselves to be taken to the present state of affairs. A nation is not made up of borders drawn on a piece of land, it's made up of people. If not for the coming together of people from different culture and different identities our nation would not have taken shape; but have we really come together? We need to ask ourselves where we have gone wrong before we start taking corrective actions. How can we honestly call ourselves a nation when we are divided regionally, by religion and in terms of economic disparity, which is one of the biggest threats?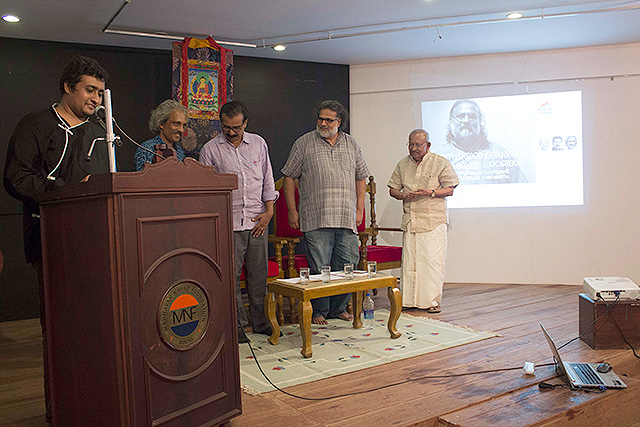 (Above) Eswar Anandan, Poet and Friends of Tibet Campaigner welcomes the audience during Tushar Gandhi lecture at the Museum of Kerala History, Edappally, Kochi.
(Below) Diwia, founder of PaperTrail, a non-profit organisation aiming for the empowerment of women in Kerala and an associate of Friends of Tibet introduces Tushar Gandhi to the gathering. (Photos: Prince Prabhakaran)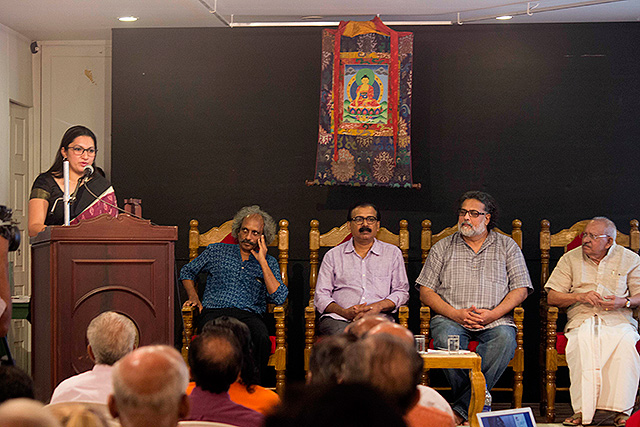 We blame the British to be responsible for this turn of events; but the British are gone and their influence has gone from our lives, but how come our rulers who are from within ourselves continue the same divide and rule policy from the British era. We are a functioning democracy and the leaders emerged from ourselves, and not from a divine race or ascended from heaven. If Bapu was alive today he would have hung a mirror in front and back of his body forcing us to see our reflection and introspect. Introspection is a quality that we have completely forgotten. Taking the example of the recent anti-corruption movement which promised and made us rise together as a nation in support of the movement, but unfortunately ended up pointing fingers about corruption, Tushar Gandhi felt that if Bapu was alive today he would have stood amidst us and would have asked only those who have never bribed anyone to talk against corruption. How many of us can say 'Yes, I am that person'. Unfortunately corruption has become an issue of convenience which takes deviations based on the urgency of the situation — be it a traffic signal or government office. This is the scale of our economic progression — from 100 rupees for a traffic constable to 500 crores for the ruler of the land.
The British prophesised that we would not survive as a nation but end up into fragments based on regions and languages. We survived, barely survived. Every school text book should have a page with the title "Where did we go wrong".
Tushar Gandhi opined that the senior members who were part of the audience were fortunate enough to live during a time when legends lived in every nook and corner of this country, but people from his generation lament about absence of a living legends and find inspiration from stories in text books and biographies of the legends who lived in the land. We often fail to find inspiration from living legends like His Holiness the XIV Dalai Lama, an iconic leader both spiritually and politically, who is with us for the last fifty years and more. We gave him refuge from the Chinese and we have long forgotten, like keeping things in one's cupboard and forgetting. We are rather content worshipping statues. We have a living example of spirituality and non-violence and peace amidst us, but the ability to learn from him is denied to us? Or rather we wait till he is no more with us to memorialise him?
Tushar Gandhi regretted that he was born early enough to sit at the feet of his Great Grandfather and learn directly from him, but considers him to be fortunate enough to grow up listening to stories from his father who as a child lived with Bapu and from his grandmother who lived with Bapu for a long time. Tushar Gandhi shared with the audience how, as a child, he felt bored and felt dejected that the only story he was told was experiences of life with Bapu. But now he realises that he was blessed because these stories introduced him to Bapu.
He felt that the greatest disservice we have done is making Gandhi a Mahatma and imprisoning him in 'Mahatmanship', which is a convenient way to put him above everyone. And one day it would not be surprising if someone feels that Mahatma was an incarnation of some god and build temples and his descendants becoming its chief priests. That would be the day when we would have murdered Bapu finally.
Tushar Gandhi opined that 'Mahatma' was not in gene, but it was something that Bapu had achieved by his deeds. We need to recognise the human within Gandhi and inculcate at least some part of his life.
It's unfortunate that we are talking about disputes that threaten our nationhood. Most of the time fights and disputes happen because of perceived insults or our thought about being disrespected and it blows into unimaginable proportions. It's unfortunate that we live in a time when we fight over a piece of meat and identifying the animal from which the piece of meat has come out has become more important that the life lost over the dispute!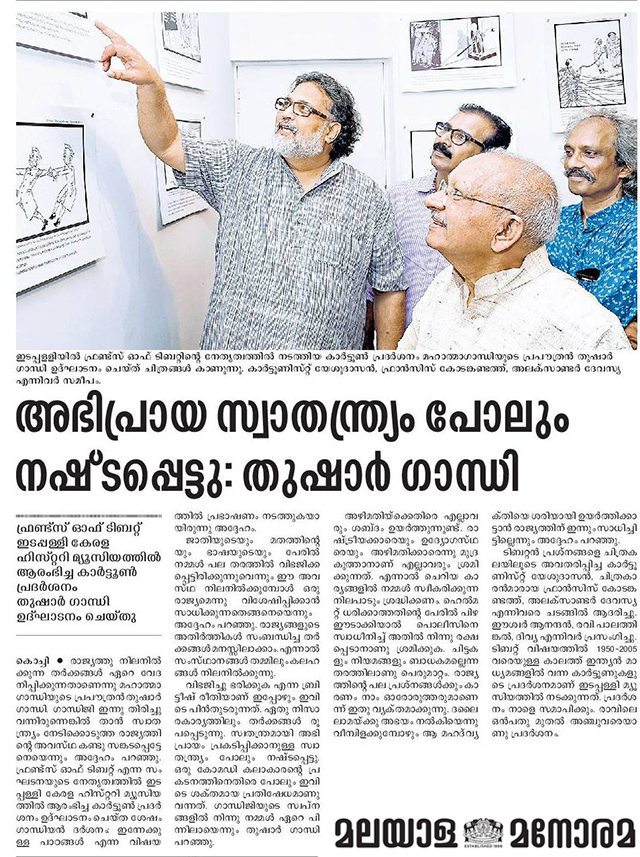 Tushar Gandhi narrated a story from Bapu's life to illustrate Bapu's point of view. Bapu was concerned about Sardar Patel ignoring his health and asked him to accompany Bapu to Dr Dinshaw Mehta's Nature Cure Clinic. Bapu used to oversee each and every regime, therapy and diet of Sardar Patel, and during one such session, a visitor came looking for Bapu. A young man with a beautifully wrapped box came enquiring and met Arun Gandhi (Tushar Gandhi's father), who then was a child. He gave strict instruction that the box should be opened only by Gandhi. Once the treatment was over, Bapu was told about the gift, and upon opening it, found it to be a box of used, worn out slippers. What one would consider as an insult today, Bapu smilingly remarked it to be a precious gift which is very valuable. On enquiring how this could be thought as a valuable gift, Bapu asked his grandson to go to the market with his cousin and sell the footwear, which eventually fetched 4 Rupees and 50 paise, which was a considerable amount at that time. Bapu asked the amount to be deposited in Harijan Fund, which would be eventually be of use for them and the receipt to be made in the name of an anonymous donor. As was his habit, during the evening prayer meeting, Bapu shared that in the morning a dear friend of his, gifted a very precious gift, but unfortunately did not wait to receive his thanks. Bapu asked if the friend was in the crowd, he requested the person to make himself known, since Bapu wanted to thank the person, because Bapu was able to make 4 Rupees and 50 Paise out of it which would help the needy. The young man thought there would be a show of anger and he was present in the crowd to see if he was successful in enraging Gandhi. But he was surprised by Bapu's way of thanking him which made him angry and stood and dared Gandhi how he could sell something which belonged to him, and since it was sold asked for the money. Bapu said you have given me a gift and once you give a gift its mine and I can do what I like with it. I have put the money in the Harijan fund and you can only get my gratitude. The young man became very angry and became abuser and volunteers had to take him away from the meeting. Everybody forgot the incident.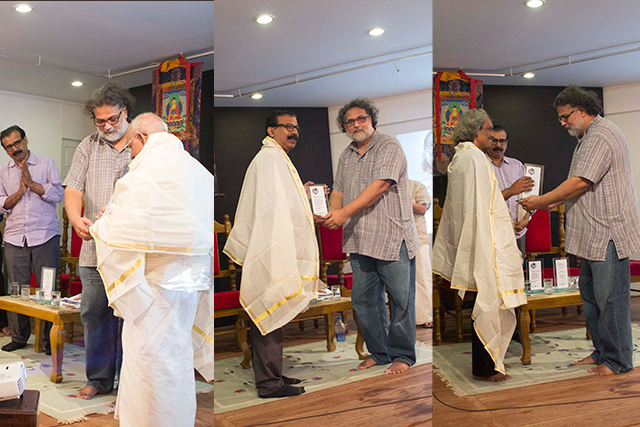 (Above) Tushar Gandhi felicitates political cartoonist Yesudasan and contemporary Indian artists Shri Francis Kodenkandath and Shri Alexander Devasia for their selfless support in creating awareness through creative art forms and relentlessly working towards the Tibet cause for the last few decades.
(Below) Tushar Gandhi, great-grandson of Mahatma Gandhi deliveres a lecture on "Gandhian Strategy: Lessons for Our Times" at the Museum of Kerala History, Edappally, Kochi on June 12, 2016. (Photos: Prince Prabhakaran)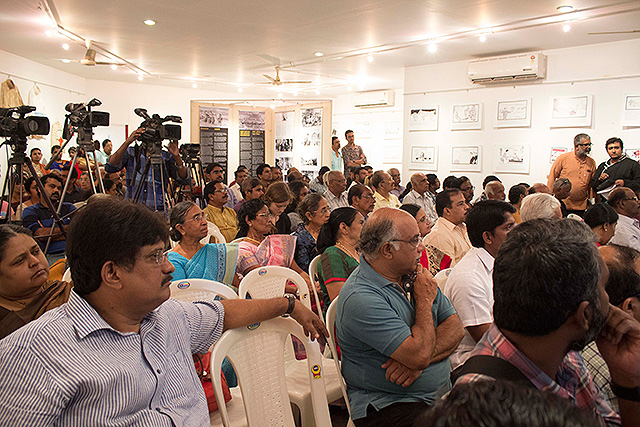 In 1948 when Gandhiji was murdered, Tushar Gandhi's grandmother and father were in South Africa. Two days after the murder, the photograph of the murderer was published in South Africa and his grandmother recognised him as the young man who had gifted footwear to Bapu.
Bapu was insulted, but he did not take it as an insult but made most of the situation. But the young man had bottled up rage against Bapu and look at what he ended up doing! This is a lesson, that if we learn and imbibe in our life that our ego and status is our own making and it's not dependent on anybody else. If this is the lesson we learn from Gandhi, then the strategy of Modern India would be much more progressive than what we are seeing today, where everything is disputed, be it place of worship, a piece of meat, or opinion. Each and everything is a cause for dispute and we say we are one nation we are one people! We just pretend that. These are the kind of lessons which if we don't learn from the icons, while some of them are living within our midst, if we ignore them, it would be our own loss, and we would have a mediocre speaker to come and tell the Strategy of India today from the Gandhian perspective. That should not be a question at all. The solution should arise from within ourselves.
Talking about the Tibet issue, Tushar Gandhi said that we feel very proud that we gave the Dalai Lama refuge and the Tibetans live freely in India. But during the visit of a Chinese dignitary, they can't even hold a non-violent protest to demand justice for themselves. They are either told to remain at their home, or are held for the period of visit. Is this the same country for whose liberation, the Father of the Nation sent a message to the world saying 'I want world sympathy in the battle of the Right Against Might' from Dandi before the day he picked up salt in defiance of the British. Tibet today is a living example of right against might and where do we stand in that battle of right against might. See the irony of the people who claim Mahatma Gandhi to be the father of the nation! Look inwards why this has become the official policy of the nation which fought for that right against might, not more than 6 and half decades ago. Why have we reached such a level where in the centre of India, the government does not have say.
Tushar Gandhi shared an experience of his visit to Chatisgarh. His wife was interested to go and visit the craftspeople of Bastar. The officer in charge, when heard about it became silent and hesitated. The next day a car was sent, but the drive on knowing the destination became hesitant and requested that they need to think about his situation. On being asked why, he said that even the Collector does not have the courage to go there afraid of being killed, he being a government servant could be killed! Government officials cannot go to Bastar anymore because it's a Naxalite territory!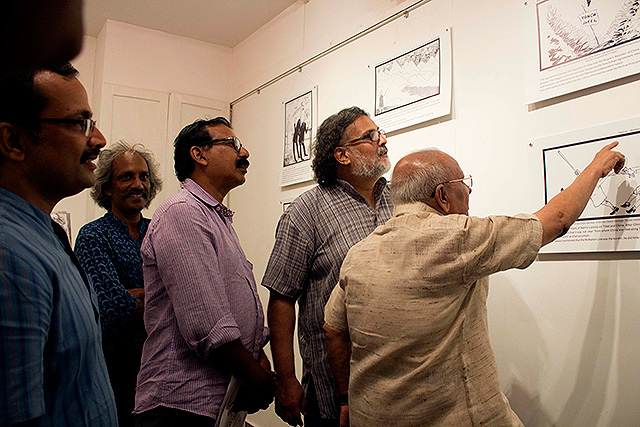 (Above) Tushar Gandhi discusses an old Shankar cartoon on Tibet with one of his disciples - Cartoonist Yesudasan. Artist Francis Kodankandath, artist Alexander Devasia, Cartoonist B Unnikrishnan next to them.
(Below) Tushar Gandhi, great-grandson of Mahatma Gandhi deliveres a lecture on "Gandhian Strategy: Lessons for Our Times" at the Museum of Kerala History, Edappally, Kochi on June 12, 2016. (Photos: Prince Prabhakaran)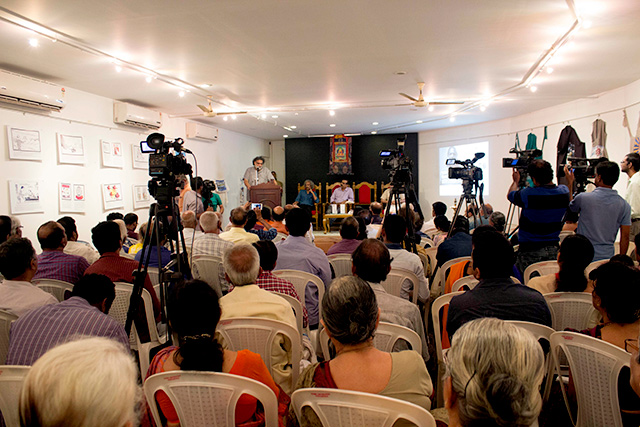 As a nation we have seceded part of our territory to a militant organisation how do we call ourselves a nation? Think of why that happened. We need to think why in such a short time the naxalite was able to hold such a large territory and our people. It happened because this democracy is full of disparity. We need to think about the tribal in those areas who consider themselves lucky if they have a plateful of rice to feed their children once in ten days. We need to think what will happen to the person who can see a politician who comes to see them once in every 5 years and buy off his vote for a bottle of liquor for him, a saree for his wife and a couple of utensils for his household. What is he going to cook in those utensils? Once the 5 kilo of rice which he got as a bribe for his vote is over? To that person if the naxalite gives his gun and tells that in just 200 kms away in the city the people there are enjoying the fruits of life and they have electricity, water and food in abundance, go there and snatch it, it's your right. If we were in the tribal's shoes, we would pick up the gun. We are very fortunate that we are sitting in a much secured surroundings and discussing this. But the time is not very distant when instead of a knock of our door, the door of our house would be ripped off from the hinges by a bomb and our home would be stormed by these people whom we have criminally neglected. Where is the nation for the father who can't put food in the plates of his children? How did we reach this stage in just seven decades of Independence? For that person, the life we enjoy in the city is part of the same nation, same Bharat Matha, and for us we can't even imagine the life that they live.
Where would Bapu have stood if he was alive today? Would he have stood with us or would he have been with the Tribal in Chhattisgarh and Jharkhand. Why have we reached this state of affairs? Where have we gone wrong? The answer lies within our hearts, not for Bapu to tell us. We must look inwards, we must find answers if we are to survive as a nation. For too long we have lived in selfish existence. As long as we have things, as long as our houses have electricity, as long as our houses get drinking water, as long as our children is educated, we are not bothered. One should look beyond one's self and see how many others have that same facility.
Tushar Gandhi shared the incident he witnessed 5 years back in Salem, Tamil Nadu, which he felt he would not be able to forget even 100 years. 'One early morning while driving at a busy intersection of a foot path, I saw a cycle had fallen and the cycle had pots of water on it, and water had spilled and couple of pots had cracked. A grown up man sitting next to the cycle was weeping. I could not understand why he was weeping. There was no accident, he was not injured, just a little bit of spilled water! Then I realised that for that man, he must have gone to collect his family's daily requirement of water and he must be taking it back. And now that he had spilled, he would have to go back from where ever he had taken it from, fill it again and take it back to his family, which meant half of his productive day would go waste, which meant as a daily labourer he would lose his income for that one day. Which would mean for that evening his children would have to go to bed on an empty stomach. Think of that. I can't even imagine that kind of an existence. In one single nation, two people who calls themselves citizens of this nation, face kind of this bleak or privileged life. And then think of how long we can remain as this nation.'
We must question ourselves. Bapu will not come and solve our problems for us. Leaders have failed us because they have thrived on our own selfishness. They sell us unbelievable dreams and promises and get away with it. To us they sells dreams of development. India is going to spend 80 Thousand Crores on building a bullet train between Ahmedabad and Mumbai. Can we ever imagine or think of how many zeroes will come after 8 to make that amount. While the same India cannot provide education to all its children, nourishment to all its children. In the same India where a record number of farmer suicides have happened, we are still being very proud about the fact that we will soon have a bullet train just like japan and other countries. Now think about how that farmer is going to feel looking at the bullet train which he or his children can never ever aspire to get into, built from the money that was their right. And then applaud our development. Though it might sound like nit-picking, when it comes together cumulatively it becomes a challenge to our very existence.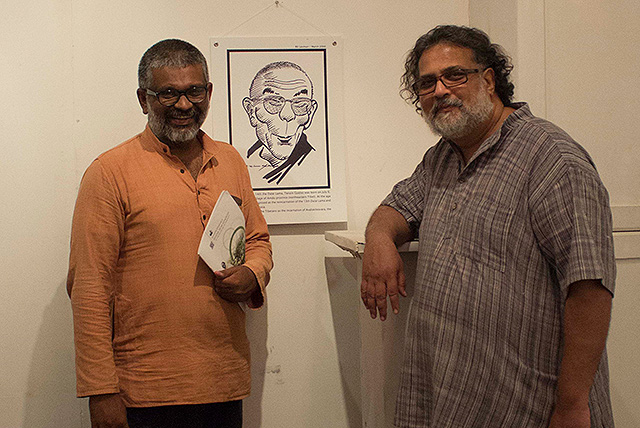 (Above) Tushar Gandhi (Right), great-grandson of Mahatma Gandhi with Sethu Das, Founder of Friends of Tibet in front a Dalai Lama caricature by RK Laxman, two personalities they both admire.
(Below) The evening witnessed the unveiling of the 'Stroke Survivors, Unite' logo by Tushar Gandhi. The forum is founded by Abraham Lawrence, who's a close associate of Friends of Tibet Foundation for the Wellbeing. He himself is a stroke survivor. (Photos: Prince Prabhakaran)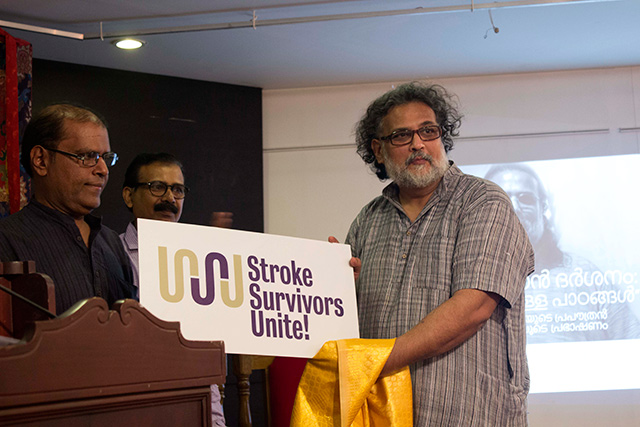 Tushar Gandhi concluded narrating about the visit of an economics professor from US with his group of his students to India. And in the end of the trip when invited to talk to them, the professor asked, 'In the economic textbooks, there is a definition that there is a list of symptoms if any of them or few of them are apparent in a society, then the society is heading for a revolution'. He said 'I have been traveling in India and I have seen each and every symptom present in India, and yet I don't see any discontent, much anger, or any signs of a revolution occurring here, how come this is so in India, if it's any other country it would be up in flames'. Tushar Gandhi says, though in his mind he said 'We are getting there', he replied to the foreigner that it's because of our spiritual heritage. Our beliefs in fate. Some people are born poor, it's their fate, some people are born rich and it's their fate, and life goes on. But this belief cannot fool us. Fate can't be this cruel. Fate can't be so partial, if there is anything called fate.
These are the few questions that we must find answers too before we can ask what Bapu would have done, had he been alive today. Tushar Gandhi said that when he was invited to give this talk, he decided to pose all these questions to the audience and force them to try and find an answer, even if it is for one question. Because he feels that if they honestly find answers, then they would honestly try to implement them, then maybe we would move towards India of Bapu's dreams. At the present moment, it is unfortunately the India of Bapu's worst night mare.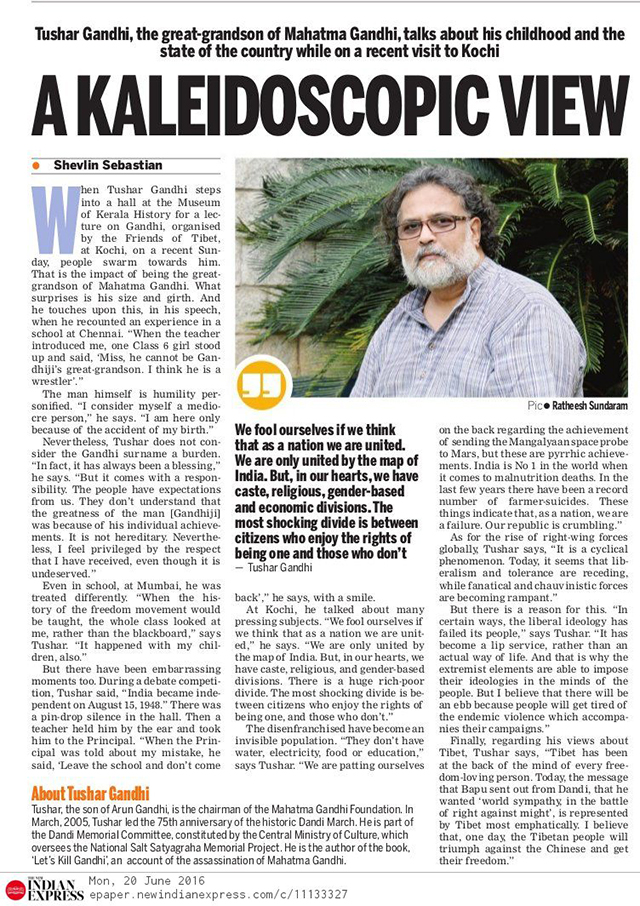 ---
DOWNLOAD: Press Release (Malayalam) | Press Release (English) | Event Poster |
---
Tushar Gandhi (Born: 1960) is the great-grandson of Mahatma Gandhi; grandson of Manilal Gandhi and son of Arun Gandhi. Chairman of Mahatma Gandhi Foundation, Shri Gandhi is also a known writer and socio-political activist. He is involved in advocating and spreading Gandhian values and principles to address the problems and dilemmas faced by today's generation. Tushar Gandhi was the goodwill ambassador of CSIR-ISP Intergovernmental Institution. In March 2005, he led the 75th anniversary re-enactment of the historic 1930 Dandi March. He is also a part of the High Level Dandi Memorial Committee constituted by the Ministry of Culture, Government of India, a team that oversees the National Salt Satyagraha Memorial Project, Dandi, Gujarat. Shri Tushar Gandhi is the author of the book "Let's Kill Gandhi".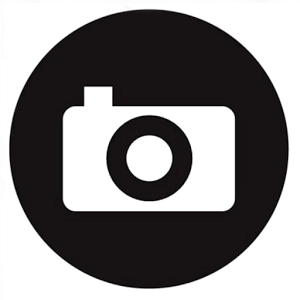 Photo Gallery
---

Friends of Tibet, PO Box 16674, Mumbai 400050, India.
Email: freedom@friendsoftibet.org Web: www.friendsoftibet.org