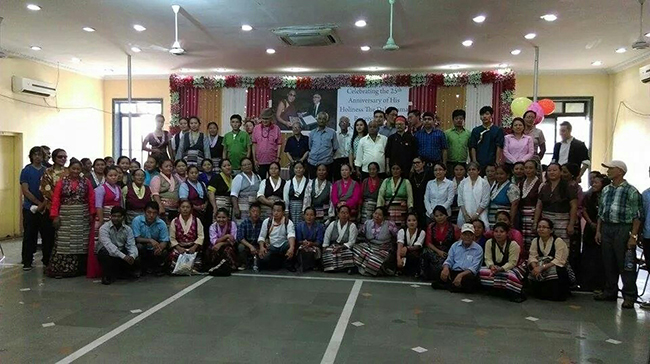 Friends of Tibet Members and supporters with Tibetan Sweater Sellers Association, Mumbai during the Human Rights Day observance on December 10, 2014 at Sharada Bhavan, Dadar, Mumbai.
Mumbai: This year marks quarter century since the Nobel Peace Prize was awarded to His Holiness the XIV Dalai Lama. World over this day, the 10th December, is celebrated as World Human Rights Day.
Friends of Tibet, Mumbai Chapter joined hands with the Tibetan Sweater Sellers Association at Sharada Hall, Dadar, Mumbai. The audience remembered the daily struggle faced by the people inside Tibet and their brave sacrifices. The Day began with a prayer for the long-life of His Holiness the XIV Dalai Lama and minute of silence was observed to honour Tibetans who sacrificed their life and committed self-immolation. The National Anthem of Tibet and India was played followed by speeches by eminent personalities who had attended the programme.
Shri SV Raju, Editor, Freedom First, was the Chief Guest for the programme. He reminisced how in 1955, during his early years, he raised the issue of PLA occupying Tibet, and is still talking about the struggle for freedom for Tibet.
Shri Ajay Agarwal, Tibet author of "India, Tibet, China: The Role Nehru Played" who has a deep understanding of Tibet, its glorious past and current state of politial affairs, spoke in Hindi about Independent Tibet, a nation which was never colonised and about the rich heritage before the invasion by modern China. He stressed on the peaceful nature of the nation and how it was neutral in approach during the two World Wars.
Shri CA Kallianpur, National Co-ordinator, Friends of Tibet spoke about the importance of Tibet as a Free Nation and the underlying impact on India's border security.
Tibetan poet and activist, Shri Tenzin Tsundue spoke in Tibetan highlighting the current situation inside Tibet and also spoke at length about the recent Umbrella Revolution in Hong Kong. He also talked about the wily ruling methods of the Chinese. He told how the hope is still fresh in the minds of every Tibetan to return to their motherland, and be in Tibet under the leadership of His Holiness the XIV Dalai Lama. He ended his talk by invoking Tibetans to do more for Tibet and the ongoing struggle. He thanked all present and stressed the importance of continuing the struggle and doing more for the struggle.
The programme also featured cultural programmes including Traditional Dance followed by Tibetan cuisine.
Rohit Singh is a Friends of Tibet Campaigner based in Mumbai, Maharashtra. He can be reached at: rohit.singh@friendsoftibet.org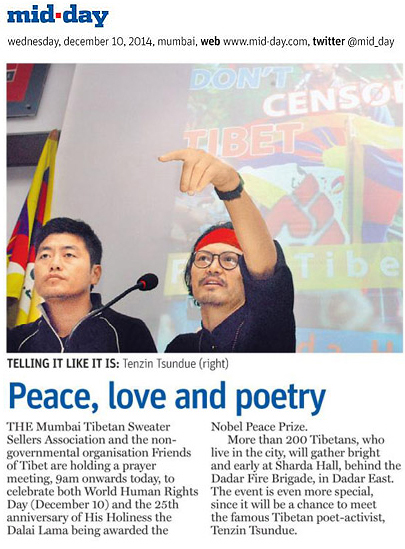 . . . . . . . . . . . . . . . . . . . . . . . . . .
| Home |

Friends of Tibet is a people's movement to keep alive the issue of Tibet through direct action. Our activities are aimed at ending China's occupation of Tibet and the suffering of the Tibetan people. Friends of Tibet supports the continued struggle of the Tibetan people for independence. Friends of Tibet is also one of the principal organisers of World Tibet Day around the world.