World Tibet Day was created with three main goals: first to create an annual worldwide event to help restore essential freedoms for those living in Chinese-occupied Tibet; second to increase awareness of the genocidal threats to the Tibetan people; and third, to celebrate the unique beauty and value of Tibetan culture and thought. Founded in 1998, World Tibet Day has grown into one of the most important events on the Tibetan calendar.
⋯
ONE of our major goals when we founded World Tibet Day was creating an event that would build much greater support and awareness for the Tibetan cause while at the same time celebrating Tibetan culture. And we wanted to make an occasion that would attract Tibetans, Tibet supporters and the general public — thereby hopefully widening the base of the Tibet movement.
One way we did that was by linking WTD events with observances honoring the birthday of the Dalai Lama. And with the approval and support of His Holiness, we've been holding WTD events on or near the same day that Tibetan communities are honoring the Dalai Lama's birthday. In most cases, Tibetan communities hold private religious services in the morning, and then in the afternoon, they hold their traditional picnic while observing WTD at the same time.
We deliberately constructed World Tibet Day as a multi-faceted event — one that appeals to the public in a variety of ways. And for those of you who want to help organise a WTD observance in your area, there are some fairly easy steps to follow. First you need to contact the closest Tibetan Association that is putting on a WTD observance and offer your help. Secondly, you need to choose one of the many facets of WTD events that appeal to you — including the following: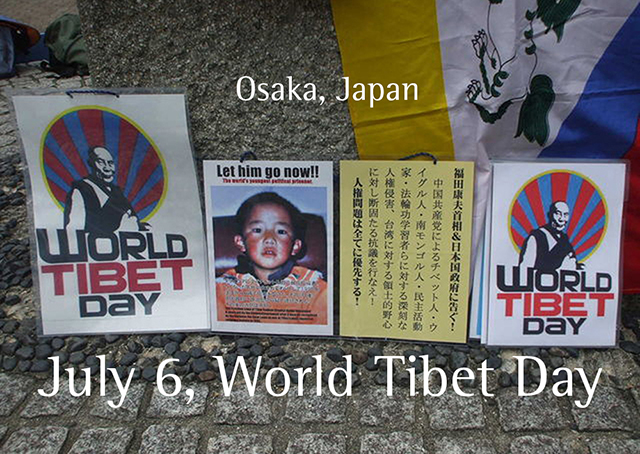 1) Raising awareness through the media
- Writing media releases about World Tibet Day (WTD) and about the birthday of His Holiness, and everything he represents as a Nobel Laureate
- Using your own releases or downloading the draft release and PSAs from the WTD website and sending these releases to newspapers, radio stations, TV stations and wire services
- Repeatedly telephoning reporters and assignment editors in advance of the event — both to publicise and promote WTD, while at the same time raising public awareness of Tibetan issues.

2) Celebrating Tibetan Culture by creating an afternoon or evening festival during WTD
- Contacting musicians, dancers and other artists to celebrate and showcase Tibetan culture
- Helping to organise musical performances and artistic presentations as part of WTD (including Thangka painting, and demonstrations of Tibetan calligraphy).

3) Organising speeches and presentations on the issue of Tibet
- Contacting informed celebrities and local politicians and inviting them to come to the event to speak about general issues of human rights and religious freedom and in particular about Tibet issues
- Helping to organise showings of a Tibetan film or even a small Tibet film festival
- Helping to set up an exhibition of Tibet photos
- Helping to organise a slide show and lecture about Tibet.

4) Setting up information tables
- Contacting Tibet Support Groups and Human Rights groups and inviting them to set up information tables at the event.
Showing films about His Holiness as part of WTD celebrations honoring his birthday
- Talking about His Holiness Dalai Lama's life and emphasising everything the Dalai Lama represents and symbolises as a spiritual leader, as the exiled leader of Tibet working tirelessly for his people, and as a Nobel Peace Prize Laureate.

5) Interfaith outreach for Tibet
- Contacting religious and spiritual leaders, giving them Tibet materials and Interfaith Call for Tibet and encouraging them to hold interfaith services linked with WTD advocating a restoration of religious freedom and human rights in Tibet.
⋯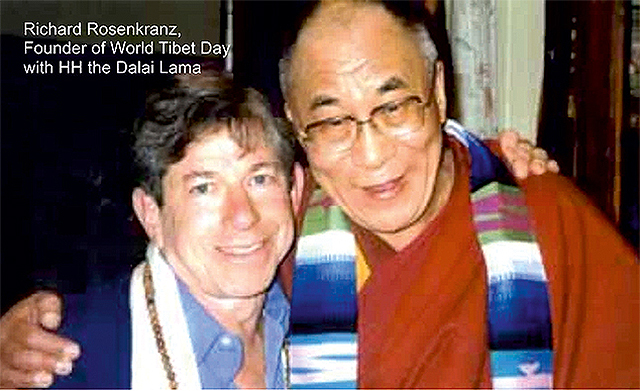 Richard Rosenkranz (1942-2014) is a Pulitzer Prize nominee in history and a former correspondent from the US Senate. In 1997, he initiated World Tibet Day (WTD) in Chicago at an informal meeting between Tendzin Choegyal, the Dalai Lama's younger brother. He is the founder of World Tibet Day Foundation. Same year, Rosenkranz founded the Interfaith Call for Universal Freedom of Worship and for Human Rights in Tibet. He intended the Call as a vehicle to help raise awareness and support for religious freedom and human rights in general, and in particular for the Tibetan people.
Having lost members of his own family in the holocaust, Rosenkranz was both disturbed and energised by predictions that the religion and culture of the people in Tibet could be wiped out within years because of genocidal practices of the Chinese government. He created the Call party to help the Tibetan people as well as the world at large. Largely through his perseverance and energy, the Call became a phenomenal success in an incredibly short time. At the end of last year, more than 150,000 people made a commitment to observe the Call, up from 8,000 people the previous year.
Working from his house in Florida, Rosenkranz did extensive outreach on a shoestring budget, financial largely through his savings. Relying mainly on e-mail and occasional mailing, he succeeded partly from his ability to convince total strangers this was a cause worth volunteering their time and effort.
He established a network of volunteers, especially young students, to help him reach out to thousands of houses of worship from many faith traditions. He also created a Web site — with help from friends with computer skills — and then solicited prayers for the Call from many eminent spiritual leaders, including His Holiness the XIV Dalai Lama, and Archbishop Desmond Tutu. He posted the prayers on his site, and then asked theologians from different faith traditions to write full prayers services for the Call. As a former national correspondent, he used his journalism skills to write numerous media releases to raise awareness about issues related to the Call.
Friends of Tibet, PO Box 16674, Mumbai 400050, India.
Tel/WhatsApp: +91.9400354354 +91.9061354354
Email: freedom@friendsoftibet.org Web: www.friendsoftibet.org
Friends of Tibet is a people's movement to keep alive the issue of Tibet through direct action. Our activities are aimed at ending China's occupation of Tibet and the suffering of the Tibetan people. Friends of Tibet supports the continued struggle of the Tibetan people for independence. Friends of Tibet is also one of the principal organisers of World Tibet Day around the world.