HOME · WELLBEING · REGISTRATION · VOLUNTEER · REPORTS · PHOTOS · CONTRIBUTORS · FAQ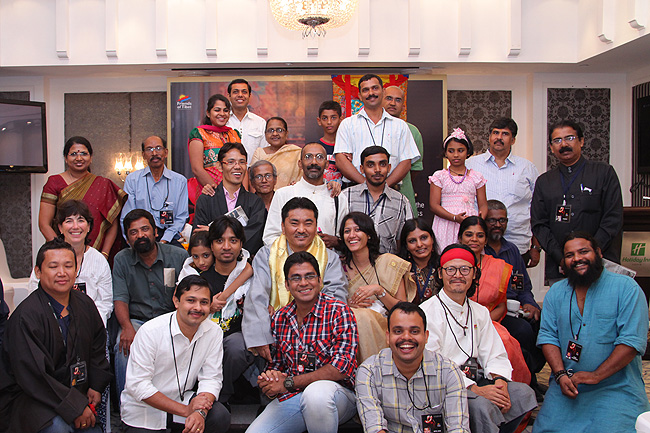 Team Friends of Tibet and Team Men-Tsee-Khang: Sunil Agarwal, Samta L Shah, Bhavana L Shah, Sharath Chandra, Suku Dass, Reeba Vikramathithyan, Suresh Babu, Dr Tenzin Norbu, CA Kallianpur, Yedltho Mathew, Sreejith Saseendran, Dr Shirmali Tharoor, Francis Kodenkandeth, Jill Marie Karras, Anto V, Swaroopa Nirmal, Nirmal Antony, Dr Dorjee Rapten Neshar, Simi Nirmal, Rashmi Siddharthan, Deepa Sharath, Sethu Das, Migmar Dorje, Emmanuel Thompson, Keval L Shah, Appu Jacob John, Tenzin Tsundue and Prince Prabhakaran. (Photos: Ramesh Kumar PS)
The Cosmic Vision of Wellbeing
The Vision Statement of the Wellbeing programme is written by Ravindra Ranasinha of Friends of Tibet: Sri Lanka. Ranasinha is a dramatist, journalist, sociologist, educationist and social worker based in Sri Lanka. He can be contacted at: ravindra.ranasinha@friendsoftibet.org.
"For all the suffering beings in this world
May I be the medicine and the doctor
And be the nurse to serve them until everyone is healed."
Shantideva
The Wellbeing has become the concern of many who consider that everyone and everything has a right to enjoy all freedom. In a globe where wars are waged against humanity and nature, Wellbeing has been narrowed down to the level of mendicancy. The terms 'donation' and 'aid' is often heard in the present context where 'conflicts' are being promoted and therefore Wellbeing has become the other side of the coin. This is a condition created by the present neo-imperialist political network that has made communities and nature to be at risk due to hidden political agendas and are imposed with so-called welfare programmes which in a larger scale furthers the exploitation. Therefore, to put it rightly, the concept of Wellbeing is uttered in the present context with a political connotation and becomes 'reactionary'.
To go beyond the boundaries of politics and to reach the inner self of the man is important when talking about the wellbeing of the person. Politics have always had marginalisation which makes the communities to be divided. This division becomes unhealthy as it does not promote any kind unity among religious, cultural and ethnic groups. The breaking up of societies is taking place rapidly and the inner person is hurt in many ways due to political opportunism. The religious and ethnic harmony and cultural unity is left in uncertain conditions and the opportunistic political maneuvering hampers any progressive steps taken by the humanity to fulfill its humane mission.
The natural environment, too, has become a victim in this technologically advanced world due to mass scale exploitation of natural resources. The efforts of many nature lovers to save the natural environment at this juncture have become a challenging task, however, with utmost commitment they have made it their pivotal focus in the present day. It is pathetic to state that the total imbalances in eco-systems are a result of the damage caused by weapons, ammunitions, gasses and chemicals. The trees, rivers, seas, animals, birds and the sky have been ungratefully attacked by the man-made advances which, on the other hand, make the value of scientific experimentation questionable. The sharp disharmony between man and natural environment totally obstructs the Wellbeing of the whole globe.
In the circumstances, the fake welfarism should be absolutely denounced and genuine effort should be made to elevate the spiritual, mental and physical vibrations of man and his nature. The focus should be for the harmonious co-existence of man, society and nature that will bring man closer to his 'being', enabling him to ensure the safe existence of his natural environment. It is only when man is aware of him/her self that he/she could have an awareness on others. Towards this end diverse actions are being implemented, namely, ashrams for spiritual upliftment, reading corners, sports and performing arts, keeping the environment clean and looking after nature. These activities go hand in hand and create good health in the person which is vital for the 'being' to enjoy happiness. It is this happiness then becomes a strong vibration for the man to focus on the Wellbeing of others and nature. This notion emphasises the broader concept that man's relationship to him/herself and others including nature is what builds the Wellbeing of the being. Therefore, relationships become an important factor when talking on Wellbeing.
Healthy relationships are a result of love and compassion. The compassionate doctor is much worthier than a dose of medicine he gives. The numbers of medical camps could be outdone by one caring medical practitioner. This limitless love and compassion comes to man from the Cosmos which is showered as a Universal Energy attracting man to the centre of happiness. This is the inclusive power or the magnetism of the cosmos and it never excludes anyone from enjoying this happiness. Therefore, any healing is a total inclusion of man and his natural environment and that helps man to experience the joy of good life. It is this 'togetherness' that becomes the Truth of Life.
In conclusion, Love and compassion are strong vibrations in a society that can heal the souls. It is the experience of becoming One — this Oneness is the aura that is visible when people care for others. Therefore, the thought of sowing happiness and joy in this globe becomes the prime purpose of the human being. It is this energy of smile that brings Wellness to all beings on this planet earth.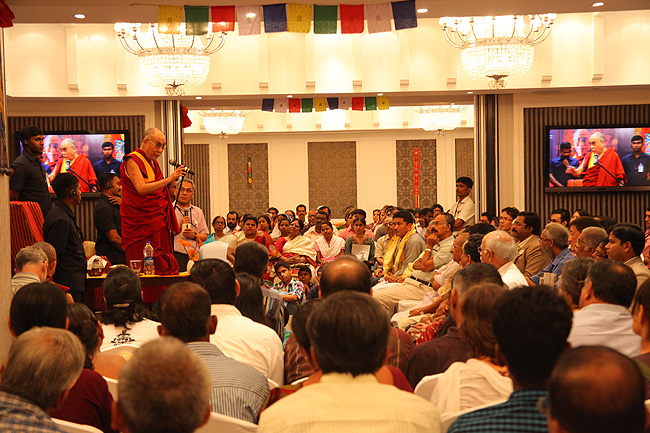 November 25, 2012: His Holiness the XIV Dalai Lama of Tibet addressing a gathering of 'Friends of Tibet' Members and 'Wellbeing' Beneficiaries at the Holiday Inn in the southern city of Kochi in Kerala. His Holiness spoke about "The Art of Happiness" at this event organised by the 'Friends of Tibet Foundation for the Wellbeing'. (Photos: Ramesh Kumar PS)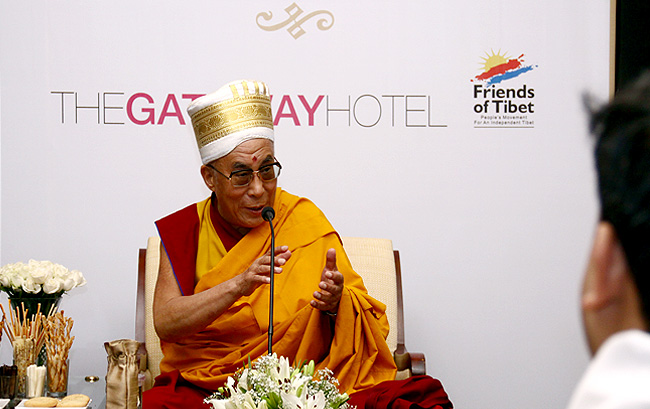 September 04, 2010: His Holiness the XIV Dalai Lama of Tibet addressing a gathering of Friends of Tibet members and supporters at The Gateway Hotel of Taj, Kochi. The first Men-Tsee-Khang Tibetan Medical Camp in Kochi by was organised by Friends of Tibet to coincide with the first visit of HH the Dalai Lama to Kochi city. Men-Tsee-Khang, the Tibetan Medical and Astrological Institute is a cultural, charitable and educational institution of HH the Dalai Lama, established on March 23, 1961. (Photo: Jijo Abraham)
. . . . . . . . . . . . . . . . . . . . . . . . . . . . . . . . . . . . . . . . . . . . . . . . . . . . . . . . . . . . . . . . . . . . . . . . . . . . . . .
A Brief History of Tibetan Medical System
Tibetan medicine is a centuries-old traditional system encompassing spiritual, medical science and social behavior in the paradigm of holistic health. It is popularly believed that Tibetan Medical System is essentially a teaching of Buddha himself as part of the ways to liberate the human beings from the vicious cycle of suffering. Disease or imbalance is diagnosed mainly through pulse analysis, urinalysis and healthy interrogation and understanding of one's dietary and life style factors. Herbo-mineral formulations in the form of pills, powders, decoctions etc and several supplementary therapies are used to treat illness. Proper diet and lifestyle changes along with healthy mental attitude will be strongly emphasised. The Tibetan medical system is based upon a synthesis of Ayurveda, Unani, Greek, indigenous Tibetan, and Chinese medical systems. The Tibetan medical system is practiced in Tibet, India, Nepal, Bhutan, Siberia, China and Mongolia, and more recently in parts of Europe and North America. The Tibetan medical system embraces the traditional Buddhist belief that all illness ultimately results from the "Three Poisons" of the mind: Ignorance, Attachment and Aversion. Therefore, the mind, body and spirit play very crucial role in understanding and the treatment of diseases as a whole. Buddhist philosophy states that everything in the universe is in a constant state of flux — that all phenomenon are characterised by impermanence, and that the only permanent feature is impermanence itself. As Buddha said, "No matter whether perfect beings arise or not, it remains a fact, and a hard necessity of existence, that all creations are transitory." It is this impermanence that causes each and every being to suffer at one stage or another. Suffering is thus not accidental but springs from a specific cause, whether from this life or a previous life. Only through proper learning and the genuine practice of Dharma, one can liberate from the vicious cycle of suffering.
The Tibetan medicines use purely natural herbal recipe that goes down to treat the root of the problem. These medicines are very safe as they are prepared without adulteration and known to have no side effects. In addition to many common ailments, Tibetan Medicines also offers very effective treatment in controlling and even curing major diseases like Asthma, Diabetes, Hypertension, General Cardio-Vascular problems, Nervous Disorders, Gynecological problems, Gastro-Intestinal Disorders, Chronic Cols and Allergic problems, Psychosomatic problems etc. The medicines also help in controlling primary cancer cases. Besides medicines, accessory therapies such as Golden Needle Therapy, Moxa-bustion and Bronze Cupping are being given to support the healing system.
Download
Hear: 'History of Tibetan Medical System' (MP3)
. . . . . . . . . . . . . . . . . . . . . . . . . . . . . . . . . . . . . . . . . . . . . . . . . . . . . . . . . . . . . . . . . . . . . . . . . . . . . . .
About Doctors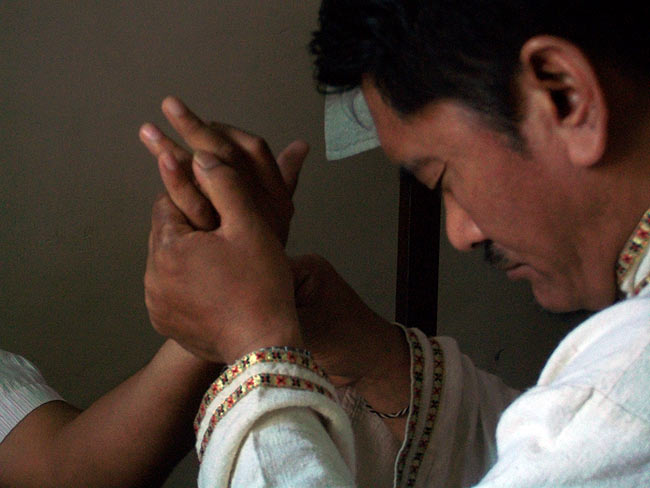 Dr Dorjee Rapten Neshar of Men-Tsee-Khang does a pulse diagnosis with a patient during the 6th Traditional Tibetan Medical Camp conducted jointly by Friends of Tibet and Men-Tsee-Khang at Ashirbhavan, Ernakulam from February 17-20, 2011. Dr Dorjee Rapten Neshar was born in Kyidong, Tibet. Following the Chinese occupation of Tibet, he escaped to India with his family in 1969. Dr Dorjee received his medical training at the Tibetan Medical College in Dharamshala where he completed intensive study in the Tibetan Medical System. He acquired most of his practical experience into the more profound level of health & healing through late Dr Tenzin Cheodrak, the former Chief Physician to His Holiness the XIV Dalai Lama. Over two decades of dedicated service in the practice of Tibetan Medicine, he has attended many national and international conferences; presented papers on Tibetan Medicine and has published articles. As the Chief Medical Officer of Men-Tsee-Khang Bangalore Branch, Dr Dorjee Rapten Neshar and his medical team covers the Tibetan Medicine health services in south Indian cities and towns regularly. He is also the former chairman of the Central Council of Tibetan Medicine. An alumnus of the Tibetan Medical College in Dharamshala, he is trained in medico-spiritual initiations for the more esoteric prac1ce of Tibetan medicine as well. In recognition of his outstanding contribution in the held of Alternative Medicine, Dr Dorjee Rapten was awarded the Gold Medal & Gem of Alternative Medicine in 1995 & 1996 from the Indian Board of Alternative Medicine, Calcutta. He also received the International Award of Excellence, from the American Organisation of Intellectuals Inc., New York, USA. (Photo: Friends of Tibet)

(Left) Dr Tara Ngawang Lodoe was born at Gyaltse in Chinese-occupied Tibet in 1978. He escaped to India in 1989 to study Tibetan Buddhism and Philosophy at the Sera Jhe Monastery. He earned the Kachupa Degree in Tibetan Medicine from the Men-Tsee-Khang, the Tibetan Medical and Astrological Institute of His Holiness the Dalai Lama based in Dharamshala, Himachal Pradesh. Dr Tara Ngawang Lodoe now works with the Bangalore branch of Men-Tsee-Khang. (Photo: Friends of Tibet)
(Right) Dr Lobsang Zoepa does pulse diagnosis during the 50th Anniversary of Men-Tsee-Khang, the Tibetan Medical and Astrological Institute of His Holiness the Dalai Lama in Kochi, Kerala with two-day long exhibition and free medical and astrological consultation on Tibetan Medicine and Astrological Calculation. The 11th Tibetan Medical Camp at Kochi organised jointly by Men-Tsee-Khang and Friends of Tibet Foundation for the Wellbeing was held at Ashirbhavan, Ernakulam from September 5-8, 2011. (Photo: appu.john@friendsoftibet.org)

(Left) Dr Chenga Lhamo is a Tibetan Medical Practitioner from the Men-Tsee-Khang Bangalore branch clinic. Born in Bhutan to a Tibetan parents, Dr Lhamo moved to India to be taken care by the Homes Foundation School, Mussoorie. She graduated from the Tibetan Medical School in 2002 and served the Tibetan Medical Centre in Mumbai and Shillong before moving to Bangalore. (Photo: Keval L Shah)
(Right) Dr Tenzin Norbu Ganub is was born in Chinese-occupied Tibet. At the age of six he escaped to India with his father. He did his schooling in Tibetan Children's Village (TCV) in Dharamshala. After finishing his AISSCE Board Exam in year 1996, Dr Tenzin Norbu joined the Men-Tsee-Khang Tibetan Medical College in 1997. Dr Tenzin Norbu Ganub was first appointed as the Resident Doctor at Navi Mumbai branch clinic of Men-Tsee-Khang and later in Shillong, Meghalaya before he got transferred to Bangalore Branch Clinic. (Photo: Girish Kumar PG)
. . . . . . . . . . . . . . . . . . . . . . . . . . . . . . . . . . . . . . . . . . . . . . . . . . . . . . . . . . . . . . . . . . . . . . . . . . . . . . .
Green Initiatives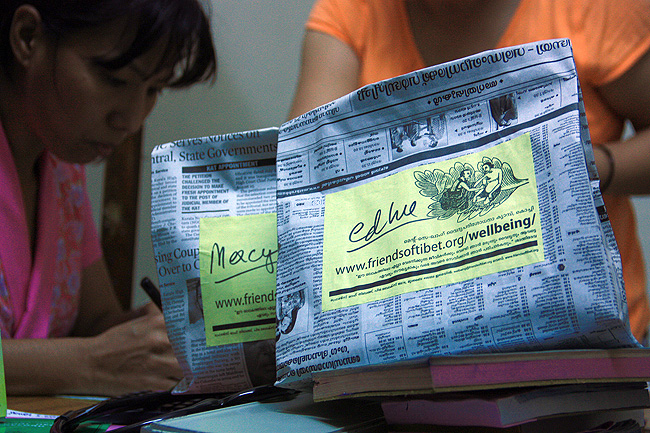 No Plastic Policy: Friends of Tibet has a strong No Plastic Policy during its events and programmes. In todays throw-away society culture, the organisation works towards medical camps with no plastic bags to pack and dispense medicines to hundreds of its participants. These paper bags are reused by many of the Wellbeing Participants. A joint-venture between Paper Trail, Design & People and Friends of Tibet produce paper bags from old newspapers which helps financially-backward women to make a living through this initiative. (Photo: suku.dass@friendsoftibet.org)
Why Wellbeing Green
The most fatal of all the menaces the modern world faces is the pollution from plastics. The plastic items that we conveniently throw away after use will not degrade or decompose for at least 5000 years, all the while poisoning our soil, our water and our air.

We burn plastic as a disposal method. A deadly toxic gas called dioxin is released when burning plastic which can cause cancer in children and grown ups alike. For their sake, please don't burn plastics. Storing food, cooking or even eating from plastic containers invites dangerous diseases into our lives.

Instead of plastic bags, use and encourage others to use bags made of cloth, jute, paper and other bio-degradable materials. Discourage the use, sale and manufacture of plastic based items to save the Earth and to preserve all her precious gifts.

These paper bags are manufactured for Friends of Tibet Wellbeing camp by 'PaperTrail', an organisation that provides self-employment for women. The bag costs Rs 3/- and we urge you to use this bag, again and again, and thus maximise the utilisation of the resources of Mother Earth.
. . . . . . . . . . . . . . . . . . . . . . . . . . . . . . . . . . . . . . . . . . . . . . . . . . . . . . . . . . . . . . . . . . . . . . . . . . . . . . .
Rangzen Band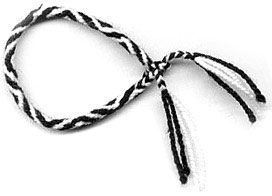 It is a traditional Tibetan belief that the Chu-Mik Gu-Dril (Nine Braided 'Water Eyes') has the power to protect you from harm. So wearing the nine 'eyes' in the form of amulets, jewelry or by weaving them onto some item of clothing — becomes a weapon against evil and demonic forces. The design consists of white and black (light and dark) strands interwoven to form 'eyes'. The two colours represent the two state protector-deities of Tibet. Tibetans also believe that wearing a band with the nine 'eyes' on your wrist, where the essential pulse of your body flow, gives you protection from nervous disorders. Herdsmen in Tibet diligently weave the nine 'eyes' onto their slings. They believe this enhances the power of the sling and makes it a more effective weapon. In fact, such a sling is one of the nine ancient weapons of Dra-lha — the War God.
In 1988, led by the late Yulo Dawa Tsering (Ven Yulo Rinpoche), Tibetan political prisoners started wearing wristbands with the nine 'eyes' for protection from the 'evil' Chinese — seen by Tibetans as not only their oppressors but the enemy of the Dharma. It was also a silent protest against Chinese atrocities in Tibet and a mark of solidarity among themselves. Unaware of this symbol, prison guards also started wearing these bands, perhaps because they saw it as a queer but harmless 'native' custom. However, on realising the significance of wearing the band, prison authorities immediately banned its use. Prisoners caught wearing the band were punished — many were tortured and even had their sentence extended.
Popularly known as the 'Rangzen' or 'Freedom Band' — this symbol of resistance against oppression and their undying struggle for freedom — is worn the world over by Tibetans and their supporters. Wearing a 'Rangzen Band' is one way of showing that you know and that you care about the Tibetan people's struggle for independence.
The Rangzen Bands are made specially for Friends of Tibet by a Tibetan refugee family living in Himachal Pradesh, India. They are sold for the cost price of Rs 20/-. To buy Rangzen Bands, email us your requirements at: wellbeing@friendsoftibet.org

Friends of Tibet Foundation for the Wellbeing, PO Box 16674, Mumbai 400050, India.
Tel: +91.9400354354, +91.9061354354
Email: wellbeing@friendsoftibet.org Web: www.friendsoftibet.org/wellbeing/