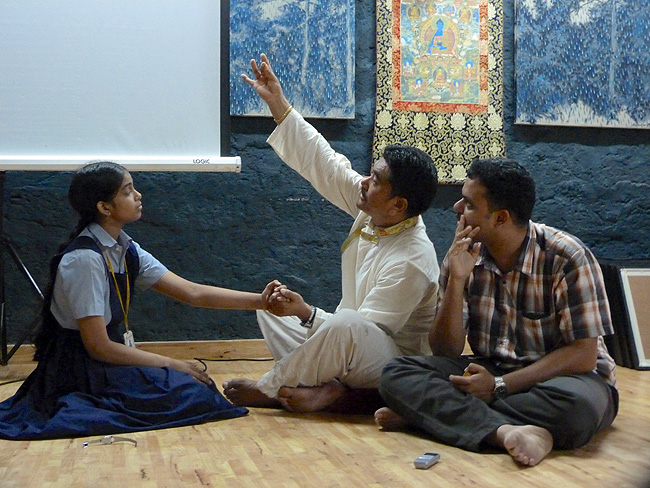 Dr Dorjee Rapten Neshar of Men-Tsee-Khang, the Tibetan Medical and Astrological Institute of His Holiness the Dalai Lama demonstrates Pulse Diagnosis during the his talk on "Sowa Rigpa, the Science of Healing" jointly organised by Friends of Tibet and Sylviander House Art Museum at Alappuzha on September 7, 2013. Prof Appu Jacob John of Friends of Tibet next to him. (Photos: Sylviander House)
After a long hectic three days of 30th Wellbeing camp from September 4-6, 2013 at Ashirbhavan, Kochi, organised jointly by Friends of Tibet and Men-Tsee-Khang, Tibetan Medical and Astrological institute of His Holiness the Dalai Lama, the volunteers were sitting and discussing how to get rid of the metal box, the only physical asset of Friends of Tibet Foundation of Wellbeing Program. It's a pleasant surprise to find an organisation trying to reduce its "assets" to zero at a time when others are in the race to accumulate resources, built assets and corpus by competing each other for projects.
Suresh Babu, one of the regular volunteers shared that Friends of Tibet does not accept contributions more then it requires for its camp every camp. A Balance Sheet reflecting financial contributions by individuals and expenditure for the camp was pasted in open for everyone to read. The balance sheet projecting nil, at the end was evidence for his statement. It was a great experience to come across an organisation that is not registered, which doesn't have a bank account, an office or any other physical asset. Its strength is just people; beneficiaries of the Wellbeing program, people who believe in the program and people who wish to contribute by extending their knowledge and expertise in volunteering. Every support is counted and accepted with equal grace.
In terms of role everyone knew it very well in advance. Sethu Das, Founder of Friends of Tibet has been coordinating with everyone since last one month. I call him a 'perfect organiser'. An automated mail and messaging system is created by the team to inform patients about their appointment with doctors. Suresh Babu arrived a day well in advance from Trivandrum and Sethu himself from Mumbai so that they can look into the camp arrangements. Dr Dorjee Rapten Neshar and his team of doctors travelled all the way from Bangalore to join the camp. Despite lack of availability of Tibetan doctors, despite his exhaustive travel he always makes sure that he is present for the camp; they are the star volunteers of the camp. Though not physically present, Yeldtho Mathew was constantly observing updates of camp on its online database. Other volunteers like Appu Jacob, Mrinalini Rajgopal, Eswar Anandan and others knew their work perfectly. All of them take break from their professional work for three to four days to volunteer in the Wellbeing camp.
I was just wondering what is that brings all of them together for a health camp like this. But I should answer this later; first I must share my own experience of consulting a Tibetan doctor.
Three months back when I first decided to participate in Wellbeing camp, my only curiosity was to try and understand the ways of functioning of a loose organisation like Friends of Tibet, 'Tibetan Healing System' was nowhere the part of that thought process. In fact I felt little uncomfortable when I received a message and mail confirming my appointment with doctor. However the pulse diagnosis of Tibetan Medical System came up as a pleasing surprise to me. My 20 years of medical suffering was revealed by Dr Dorjee Rapten Neshar in mere few minutes of the diagnosis. I was amused at perfection of his diagnosis. No blood check-up, no CT-Scan, no MRI yet a perfect diagnosis. A modern day medicine user like me will certainly take time to believe in ancient tradition of 'Tibetan Healing System' like this but still I cannot ignore the fact that several patients with serious ailment are consulting doctor at the camp, few suffering from cancer, few completely bedridden and others with strong mental and physical suffering and all of them finding relief in the 'Tibetan Healing System'.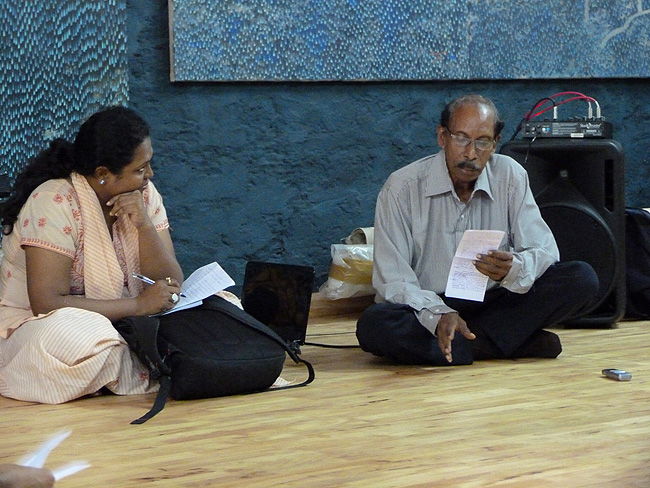 Suresh Babu of Friends of Tibet introduces the event 'Sowa Rigpa, the Science of Healing' lecture organised jointly by Friends of Tibet and Sylviander House Art Museum at Alappuzha on September 7, 2013. Mukta Ojha (left), the author of this story next to him.
So what is that which is making it equally relevant for all kind of patients?
My both question was answered through a talk on 'Sowa Rigpa, the Science of Healing' by Dr Dorjee organised by Friends of Tibet at Alappuzha and hosted by a wonderful Volunteer couple Sylvie Bantle and Alexander Devasia in their eco-house cum museum, an outcome of their art and activism.
During the talk at Sylvinder House Art Museum, Dr Dorjee shared that the essence of 'Tibetan Medical System' is based on noble truth of suffering preached by Buddha. Buddhists believe that suffering is inevitable part of human life and where there is suffering there is disease. So one can only go through real healing if we understand the real cause of our suffering - Ignorance. He further shared that with ignorance we bring lot of negative emotions such as desire, attachment, hatred and disillusionment and these melancholic emotions becomes the reason of medical disorder. Several hormonal problems such as thyroid and problems like breast cancer is result of such suppressed emotion of desire and disillusionment. Thus in 'Tibetan Healing System' healing doesn't mean only consulting a doctor and taking medicine it's much larger. Tibetan medicine deals with holistic wellbeing of an individual's mind, body and spirit all together and therefore doctors, nurse and medicine all are sacred in the system unlike today's modern medicine where patients are treated as commodity and treatment as wealth generating activity.
The diagnostic system in Tibetan Medicine is also very unique. Dr Dorjee Rapten shared that there are several ways of diagnosing health issues however Pulse diagnostic system and Urine Sample observation are two pillars of Tibetan diagnostic system. In a demonstration Dr Dorjee showed how functioning of five vital organs - heart, lungs, liver, ovary and kidney and six hollow organs including stomach and intestine can be examined by pulse diagnosis. Checking pulse in Tibetan Medical System is not only about checking heart beats, it's like scanning physical constitution of the patient and identifying the problem of patient. The urine diagnosis is done for understanding disease of the patient as well as for identifying his/her food habit. The urine diagnosis is also simple like pulse diagnosis. A Tibetan doctor does not need any machine for urine diagnosis; they do it by looking at smell, colour, flow, bubble and changing colour of the urine.
The talk on Sowa Rigpa was followed by a film screening of 'Blue Buddha', another insight on Tibetan Medical Tradition for me and several other viewers. For me knowing about Tibetan Medical System was like walking through age old hidden treasure. I am flabbergasted by simplicity of Tibetan Medical System, dedication and devotion of Tibetan doctors for the wellbeing of their patients, commitment of Friends of Tibet Volunteers and ways of functioning of the organisation. All together they were a beautiful bouquet of surprise for me and I look forward to volunteer again very soon.
'Sowa Rigpa, the Science of Healing' lecture by Dr Dorjee Rapten Neshar organised jointly by Friends of Tibet and Sylviander House Art Museum at Alappuzha on September 7, 2013.

. . . . . . . . . . . . . . . . . . . . . . . . . . . . . . . . . . . . . . . . . . . . . . . . . . . . . . . . . . . . . . . . . . . . . . . . . . . . . . .

Friends of Tibet Foundation for the Wellbeing, PO Box 16674, Bombay 400050, India.
Email: wellbeing@friendsoftibet.org Web: www.friendsoftibet.org/wellbeing