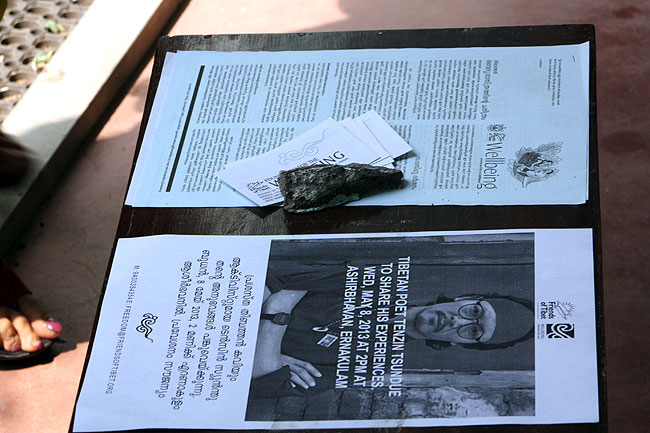 A poster welcoming Tibetan poet-activist Tenzin Tsundue to Kochi at the 28th Wellbeing Tibetan Medical Camp venue in Kochi. Tsundue spoke to a gathering of Indian supporters and media personalities on May 8, 2013 and updated them about the situation inside Chinese-occupied Tibet. (Photo: suku.dass@friendsoftibet.org)
Kochi: Clad in black, a red band on his head, a grey and black one on his wrist, Tenzin Tsundue stands for the Tibetan people's crusade for freedom. He was in Kochi to give a talk on behalf of the Friends of Tibet of which he is General Secretary.
On inquiring about his wrist band, he says it's called a 'Rangzen Band' that stands for the struggle for independence. When asked about his bi-cultural link, the well-known resistance writer who took his BA degree in English Literature from Loyola College, says, "I am tempted to say I am from Karnataka." His parents were initially labourers who lived in tents by the road sides in Himachal Pradesh and later were rehabilitated. He recounts fond memories of a Kannada lady who would sell him a set of idli and chutney for 10 paise which his father promptly gave him. He describes this as "the best gift of school life".
The realisation that he did not belong in India sparked a change from "games and play to immediate maturity. In fifth standard I took a pledge that I would become a freedom fighter when I grow up." China now has under it all of Tibet, East Turkestan and Southern Mongolia. No one is coming forward to help the Tibetans. The international community, trading with China and the 'capitalistic and predatory nature of trade' is responsible for this. Even fifteen and sixteen-year-olds have resorted to self-immolation during protests and close to 117 have sacrificed their life for the cause."
Tsundue calls on the media to inform and supplement education about the plight of the Tibetans. With MNCs such as Apple planning to move out of China due to dearth of labourers and Japanese companies moving out due to political animosity 'only the Tibetans refuse to be silenced under fear'.
The Tibetans are a suffering lot. He says he has to carry a registration certificate wherever he goes and is treated like a foreigner. In India, nobody is a refugee. India doesn't have refugee laws. "We cannot participate in anything that requires Indian citizenship. So writing NET exams or voting or owning immovable property is out of the question." He calls out to the new generation outside Tibet to support the Tibetan struggle through international contacts and the media.
'Free Tibet cannot be made with money but with education and empowerment,' he says. Amid the tough struggles, it is his passion for poetry that carries him through. "I take poetry very seriously. It makes me most creative and when I am not creating poetry I am not creating enough." The eighth edition of Kora, a collection of stories and poems have sold almost 20,000 copies. In 'The Betrayal' he writes about the betrayal he feels as he does not address the immediacy of the matter through violent means but adheres to the planned non-violent struggle in keeping with teachings of love, peace and compassion of Dalai Lama.
His other poems 'I am Tired', 'My Tibetaness' and 'Exile House' also reflect the longing for a homeland and the sense of being lost, a feeling shared by the Tibetan youth today, knowing they have a rich culture and tradition but not knowing whether they fit in any more. "I thought when I grew up and wrote about the plight of Tibet everyone would support our cause but I was wrong, since everyone has their own interests I have realised we have to contest for our cause."
Determined, he moves to on that he will not take off the red band from his forehead till he succeeds in helping Tibet gain its freedom. He hopes China would withdraw with dignity and that the Buddhist link will come to their aid.
On crossing the border, he says, "For me it was a dream. My idea was to go to Tibet and live there." But it did not materialise. At the same time realisation dawned on him that he did not have to live in Tibet to fight for its freedom. The subsequent demonstrations by him to free Tibet on the arrival of Chinese dignitaries in the country were a result of this.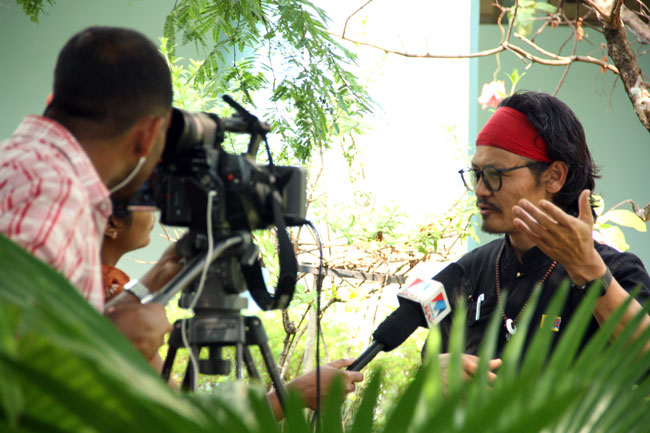 Tenzin Tsundue, Tibetan poet-activist and Friends of Tibet Campaigner speaking to the media during the 28th Wellbeing Tibetan Medical Camp in Kochi organised jointly by the Men-Tsee-Khang and Friends of Tibet Foundation for the Wellbeing from May 8-11, 2013. (Photo: suku.dass@friendsoftibet.org)
Tibetan Poet Predicts More PLA Incursions
Report by: By Anil S, The New Indian Express, May 09, 2013
Kochi: After Daulat Beg Oldi in Ladakh, the next incursion by the Chinese People's Liberation Army (PLA)troops could take place at the Shipki La Pass along the Sino-Indian border, according to noted Tibetan poet and activist in exile, Tenzin Tsundue.
Accusing New Delhi of remaining 'complacent' in the face of the mounting threat from Beijing, Tsundue said India was yet to realise the magnitude of China's military preparedness along the Line of Actual Control (LAC). The veteran activist shared his concerns over India's lack of preparedness and casual attitude in dealing with the Chinese aggression, during a chat with Express here on Wednesday.
"There's a major attempt by India to play down the Chinese incursion into Ladakh. India takes it lightly, most of them are after cricket or Bollywood. The government and the media sometimes speak as if nothing serious had happened, while the issue is actually worse. People in the mainland does not know what happened. Chinese military (PLA) has been making attempts to enter the Indian territory through portions of Ladakh," he said.
Tsundue pointed out that the Ladakh incursion would be one of the several attempts made by the PLA, with Shipki La probably becoming the next theatre of military aggression. According to the poet-activist, he is concerned over New Delhi's callous approach towards those in the Himalayan region.
"India has always been blind towards the Himalayan region spread over 4,000kms. There are thousands of Indians living in the Himalayan region. But those in the mainland have never realised this. Indian texts never speak about the Himalayan region. That's why the Chinese incursions are not being taken seriously. It was a huge strategic failure by India and showed how woefully ill-prepared the country was. The Indian government made the mistake of terming China as a strategic partner while it should have been perceived as an enemy," the poet-activist said.
Earlier,the poet-activist had spent three years in a Chinese prison after he was caught by the PLA border guards while trying to sneak into his motherland. Recalling the nightmarish experience, the Tibetan said he had to endure terrible torture during the incarceration and added that his later attempts to visit Tibet were unsuccessful. Interestingly, Tsundue has been undergoing trial in an eight-year-old protest on the Tibetan issue, in Bangalore. "The Karnataka police could not produce the witnesses before the court. Hence the trial is still on. I have close to 12 cases in India," he says.
Dr Chenga Lhamo is a Tibetan Medical Practitioner from the Men-Tsee-Khang Bangalore branch clinic. Born in Bhutan to a Tibetan parents, Dr Lhamo moved to India to be taken care by the Homes Foundation School, Mussoorie. She graduated from the Tibetan Medical School in 2002 and served the Tibetan Medical Centre in Mumbai and Shillong before moving to Bangalore. (Photo: Keval L Shah)

. . . . . . . . . . . . . . . . . . . . . . . . . . . . . . . . . . . . . . . . . . . . . . . . . . . . . . . . . . . . . . . . . . . . . . . . . . . . . . .

Friends of Tibet Foundation for the Wellbeing, PO Box 16674, Bombay 400050, India.
Email: wellbeing@friendsoftibet.org Web: www.friendsoftibet.org/wellbeing