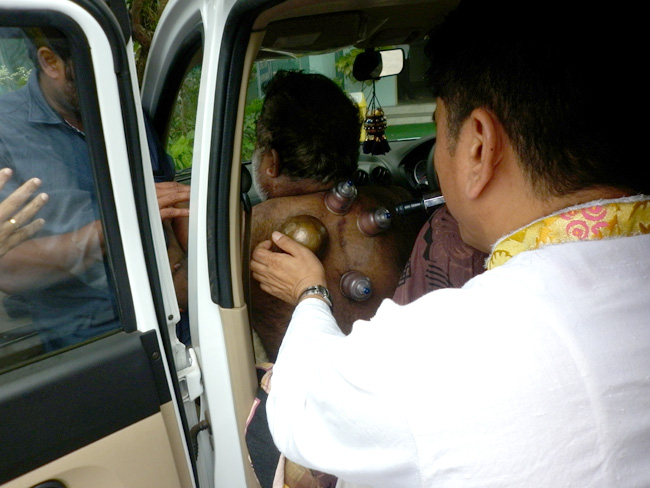 Wellbeing on Wheels: Not all participants of the Wellbeing programme are in a position to reach a Tibetan doctor. When they fail, the Tibetan doctor reaches their ambulance to diagnose and to offer Tibetan therapies. Photograph of Dr Dorjee Rapten Neshar of Men-Tsee-Khang, the Tibetan Medical and Astrological Institute of His Holiness the Dalai Lama doing a cup therapy. This is done using metal cups applied and created a semi vacuum state in the body. Then a slightly hot copper pot is applied and knocked heavily on the spot to relieve the pain. (Photos: Design and People)
Kochi: Sixty-year-old Ramakrishnan came all the way from Palakkad to attend the Tibetan medical camp organised by the Friends of Tibet Foundation for the Wellbeing, here on Sunday.
After taking allopathic medicines for several years, diabetes and joints pain were still troubling him. So he decided to try the Tibetan form of medicine. Ramakrishnan is not the only one who has come from another district. Every month, at least 300 patients from across the state turn up at the camp to find an alternative solution for their health problems.
Famed for its unique style of healing, the Tibetan medicine which is quite akin to the ayurveda works miracles for patients especially those suffering from cancer and diabetes.
Recent studies conducted by the Tibetan Medical Centre, Bangalore branch, showed that the people of the state have been steadily opting for the oriental form of medicine over the past few years.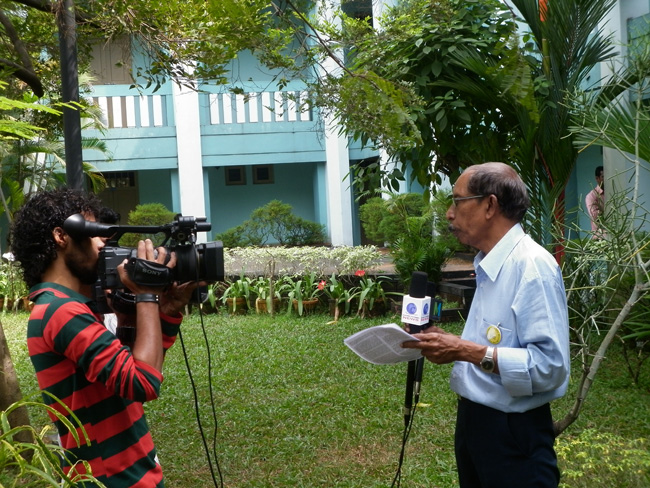 Suresh Babu of Friends of Tibet speaks to electronic media during the 33rd Wellbeing Tibetan Medical Camp organised jointly by Friends of Tibet Foundation for the Wellbeing and Men-Tsee-Khang at Kochi from January 8-11, 2014.
"We have cases diagnosed with cancer at the final stages but our medicines proved to be of great relief. Currently, there are six patients who are under treatment for cancer," said Dr Dorjee, one of the doctors at the camp.
The illness is usually traced by studying the pulse of the patient.
Sarojini from Thrissur has been frequenting the camp with her 24-year-old mentally challenged son for the past two years. "He also suffered from bouts of illness, including fits and tuberculosis, since birth. We have been running from one hospital to another. However, for the past few months, there is a conceivable improvement in his condition," she said.
Most medicines are given in the form of tablets which are quite cheap.
Dr Dorjee said the treatment involves spiritual, physical and mental aspects of healing. It has also helped bring down blood pressure, asthma, gastric trouble, hypertension, sinusitis and offered relief to cancer patients, even in advanced stages, he said.
Usually, a team of two doctors arrive for the monthly camp held at the Ashir Bhavan.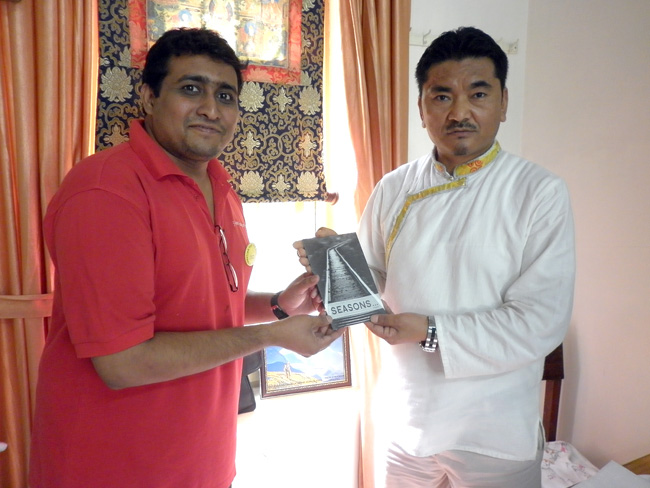 Eswar Anandan, a Member of Friends of Tibet Foundation for the Wellbeing gives a copy of "Seasons", his recently-published collection of poems in English to Dr Dorjee Rapten Neshar, Chief Medical Officer of Men-Tsee-Khang Bangalore clinic during the Wellbeing Tibetan Camp at Kochi organised jointly by Friends of Tibet and Men-Tsee-Khang from January 8-11, 2014. (Photo: Friends of Tibet)

. . . . . . . . . . . . . . . . . . . . . . . . . . . . . . . . . . . . . . . . . . . . . . . . . . . . . . . . . . . . . . . . . . . . . . . . . . . . . . .

Friends of Tibet Foundation for the Wellbeing, PO Box 16674, Bombay 400050, India.
Email: wellbeing@friendsoftibet.org Web: www.friendsoftibet.org/wellbeing