(Friends of Tibet Mumbai Chapter, November 26, 2013)
IIT Bombay Welcomes 'Friends of Tibet Foundation for the Wellbeing' Initiatives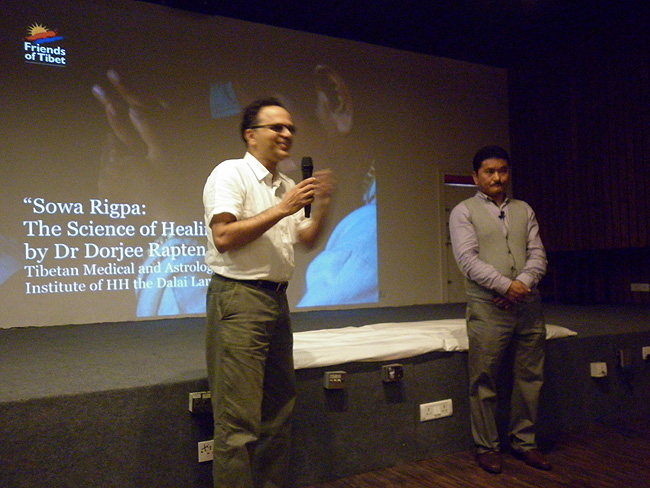 Prof BK Chakravarthy, Head of Industrial Design Centre of IIT Bombay proposes Vote of Thanks after the "Sowa Rigpa, the Science of Healing" lecture by Dr Dorjee Rapten Neshar, Chief Medical Officer, Men-Tsee-Khang, the Tibetan Medical and Astrological Institute of His Holiness the Dalai Lama at IIT Bombay on November 26, 2013. The event was jointly organised by Friends of Tibet and Industrial Design Centre, IIT Bombay. (Photos: Friends of Tibet: Mumbai)
Powai, Mumbai: "This lecture was destined to happen here in the campus, thank you very much", said a professor of IIT Bombay, one of the most important educational institutions of India. He was one of the faculty members who was fortunate enough to listen to Dr Dorjee Rapten Neshar, Chief Medical Officer, Men-Tsee-Khang, the Tibetan Medical and Astrological Institute of His Holiness the Dalai Lama at IIT Bombay on November 26, 2013 - an event organised jointly by 'Friends of Tibet Foundation for the Wellbeing' and 'IIT Bombay'.
The lecure on Tibetan Medical System was a last minute effort of Prof CP Narayan, who teaches Sound Engineering and Technology at IIT-B and Sethu Das, Founder President of Friends of Tibet who is an alumnus of the prestigious IIT Bombay. Dr Dorjee Rapten was returning from Manila, Philippines after a 15-day long lecture tour and medical camp when he got a call from Friends of Tibet requesting him if he could come down to see a critical cancer patient inside the IIT Powai campus. In spite of the busy travel schedule, the Tibetan doctor agreed to change his finalised travel plans to see the patient the very next day morning. The Buddhist quality of not turning down a request from a person in sufferring not only helped the lone sufferer, but also those around who had the rare opportunity to listen to an expert on "Sowa Rigpa", the ancient Science of Healing.
Dr Dorjee Rapten Neshar, born in Chinese-occupied Tibet in 1964 is now well-known as an expert in the treatment of cancer. He has been the former Chairman of the Tibetan Central Medical Council, has also presented papers in national and international forums.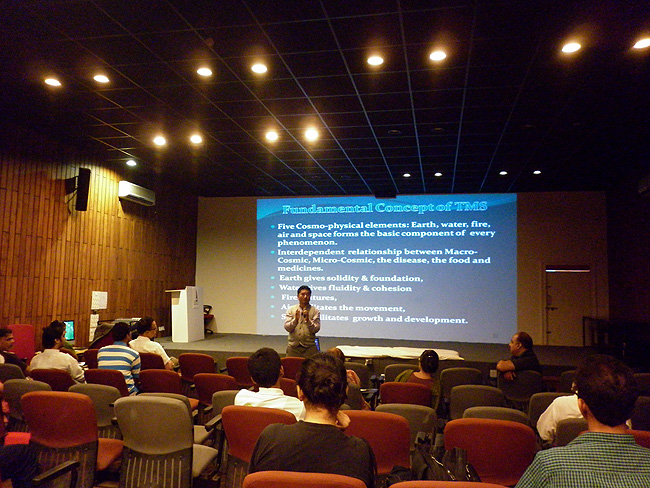 Dr Dorjee Rapten Neshar who has written umpteen articles and books on Tibetan Medical System explained the essence of 'Tibetan Medical System' in detail. He said the Tibetan Medical System is based on four noble truths preached by Lord Buddha. "Suffering is inevitable and is a part of human life. And where there is suffering there is disease too and as long as one can only go through real healing if we understand the real cause of our suffering - Ignorance." According to him the Tibetan Healing System is not only based only on one's consultation and interaction with a Tibean doctor but beyond. It does deal with holistic wellbeing of a person's mind, body and spirit.
A lecture that attracted students, faculty members of IIT-B and doctors from IIT Hospital lasted for about two hours, followed by a question-answer session. Prof BK Chakravarthy, Head of Industrial Design Centre of IIT Bombay proposed Vote of Thanks after the "Sowa Rigpa, the Science of Healing" lecture by Dr Dorjee Rapten Neshar. He thanked the Tibetan doctor and Friends of Tibet Campaigners for their willingness to organise this event in the campus. He also proposed that IIT Bombay send a delegation to Dharamshala to understand and study the ancient art of healing and plan joint ventures and research in future. An official chapter of 'Friends of Tibet Foundation for the Wellbeing' in IIT Bombay was also proposed by Prof BK Chakravarthy during his vote of thanks.
Dr Dorjee Rapten Neshar was born in Kyidong, Tibet. Following the Chinese occupation of Tibet, he escaped to India with his family in 1969. Dr Dorjee received his medical training at the Tibetan Medical College in Dharamshala where he completed intensive study in the Tibetan Medical System. He acquired most of his practical experience into the more profound level of health & healing through late Dr Tenzin Cheodrak, the former Chief Physician to His Holiness the XIV Dalai Lama. Over two decades of dedicated service in the practice of Tibetan Medicine, he has attended many national and international conferences; presented papers on Tibetan Medicine and has published articles. As the Chief Medical Officer of Men-Tsee-Khang Bangalore Branch, Dr Dorjee Rapten Neshar and his medical team covers the Tibetan Medicine health services in south Indian cities and towns regularly. He is also the former chairman of the Central Council of Tibetan Medicine. An alumnus of the Tibetan Medical College in Dharamshala, he is trained in medico-spiritual initiations for the more esoteric prac1ce of Tibetan medicine as well. In recognition of his outstanding contribution in the held of Alternative Medicine, Dr Dorjee Rapten was awarded the Gold Medal & Gem of Alternative Medicine in 1995 & 1996 from the Indian Board of Alternative Medicine, Calcutta. He also received the International Award of Excellence, from the American Organisation of Intellectuals Inc., New York, USA.

. . . . . . . . . . . . . . . . . . . . . . . . . . . . . . . . . . . . . . . . . . . . . . . . . . . . . . . . . . . . . . . . . . . . . . . . . . . . . . .

Friends of Tibet Foundation for the Wellbeing, PO Box 16674, Bombay 400050, India.
Email: wellbeing@friendsoftibet.org Web: www.friendsoftibet.org/wellbeing