(Dharamshala | April 20, 2002)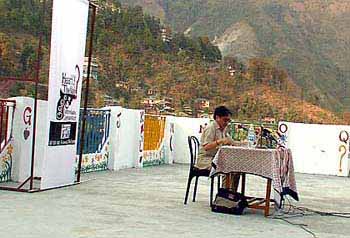 McLeod Ganj is abuzzed again like in the late 1990's (referendum time). People in the streets, across the neighbour's windows, on the way home, on the Lingkhor Road, all talk about one thing 'Rangzen.' Ever since the first session of the 'Heart-Of-The-Matter', the video business too has gained a good momentum. The local TV channel relayed the video recording of the previous "Heart-Of-The-Matter" where the Kalon Tripa spoke on the 'Middle Way And The Future Of Tibet.'
As if the 'Independence` stand is the twin child with 'Middle Way,' the second session of 'Heart-Of-The-Matter' was about it. ATPD Member TT Karma Choephel said 'Independence Is Achieveable' because it is something which "we had and we lost." We are not asking for something which was never ours. He said that the middle way approach has weakened the Tibetan freedom struggle.
'Heart-of-the-Matter' seeks to provide an open platform where any and all matters of importance and interest to Tibet and the Tibetan people can be debated and discussed freely and frankly.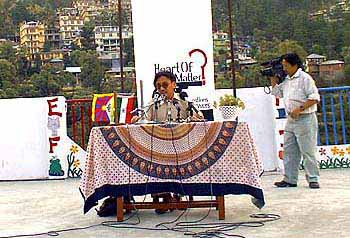 The talk lasted for about forty minutes and it was followed by Q&A session. Fifteen people got opportunities to ask questions, some even made strong statements in support for his independence stand.
One question from a youth perhaps summarised the debate. He asked, "the 20,000 members of the Tibetan Youth Congress, the Gu-Chu-Sum Movement of Tibet, which represents the aspirations of the Tibetans in Tibet, The National Democratic Party ask for independence for Tibet, then doesn't the Tibetan parliament hear the call for the people if they so represent the voices of the people and make decisions in the name of the Tibetan people?" For this question he received an uproaring clapping.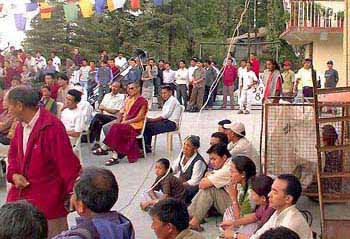 . . . . . . . . . . . . .
'Heart-Of-The-Matter': Regardless of where one may stand on the issue of the 'Middle Way' policy or 'Independence', the one fact that every Tibetan must face is that with more and more and more Chinese moving into Tibet every day — time is running out. What is more, among the many problems confronting the Tibetan people, the lack of open channels of communication between the people inside Tibet and those in exile is a major obstacle. Even in exile, despite the outstanding efforts and achievements of the Tibetan exile government as well as various organisations and individuals - there does not seem to be adequate platforms through which to discuss and debate issues of public concerns and most of all to convey a sense of transparency in the functioning of the government.
---
'Heart-Of-The-Matter' was organised by Friends of Tibet (INDIA) in Dharamshala on April 20, 2002.