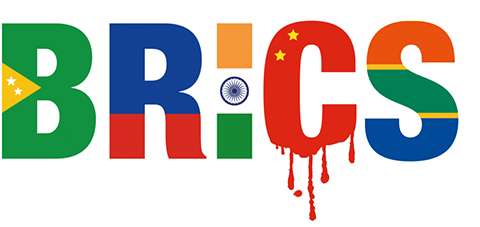 Friends of Tibet, people's movement for an independent Tibet condemn the arrest of high-profile Tibetan poet-activist Tenzin Tsundue and hundreds of Tibetan youth activists protesting the presence of Chinese President Xi Jinping at the 8th BRICS Summit of five major emerging economies hosted under the Chairmanship of India from October 15-16, 2016 in Goa.
According to Braz Menezes, PI, Colva Police, "Tenzin Tsundue found hiding overnight in Benaulim, an area declared as 'sterile zone' to attract the attention of visiting dignitaries attending the BRICS Summit and was attempting to jump between their convoy. Tsundue has a past record of disrupting meetings attended by visiting Chinese dignitaries to India." The poet-activist was arrested and later charged under Section 151 CrPC.
Friends of Tibet call upon all its supporters to show solidarity with Tibetan refugees, in their peaceful, non-violent means of protests against the Chinese aggression on occupied-Tibet.
---
Below a small note prepared by the noted Poet-Activist Tenzin Tsundue, found in his pocket by the security officials.
"Why I Am Protesting Today"
(Goa, India; October 15, 2015)
Tenzin Tsundue, Poet-Activist and Friends of Tibet Campaigner with friends and supporters after his release from Vasco Sub-Jail, Goa on October 17, 2016. He was arrested by Goa Police for protesting BRICS 2016 and later charged under Section 151 CrPC.
Your mobile phone most probably runs on a 'Made in China' lithium battery that China has mined out of my country — Tibet. Like lithium, China has been exploiting billions of dollars' worth natural resources out of Tibet for free while brutally suppressing Tibetan resistance, and flooding Tibet with millions of migrant workers from China. I protest because this is not right. China has been plundering Tibet in its sixty years of military occupation and is now selling it everywhere, calling it global trade. Globally, there is hunger for trading cheap 'Made in China' products.
Although, world over people are sympathetic with the Tibetans and love His Holiness the Dalai Lama, most people do not know or ignore that in order to run cheap Chinese productions, the ancestral Tibetan nomads and farmers are now being resettled in 'reservations' kind of artificial villages. Since Tibetan language is being systematically replaced by Chinese, the fear of genocide has prompted over 145 Tibetans to burn themselves in self-immolations. I protest because most people do not know they are direct beneficiaries from the suffering of the Tibetans inside Tibet. Tibet is under multi-layers of colonisation.
I protest because the Xi Jinping continues to run the dictatorship in China — denying basic freedom and democracy to the people of China — is here at the BRICS summit in India, my birth place. I'm a Tibetan refugee and it is my moral duty to stand up and say: NO! However, I regret that I'm protesting at a place where honorable Indian Prime Minister is also present. Tibet's Independence is India's security. Jai Tibbat! Jai Bharat!
---
Friends of Tibet, PO Box 16674, Mumbai 400050, India.
Email: freedom@friendsoftibet.org Web: www.friendsoftibet.org